After Condé Nast's new rules to fight sexual harassment, the fashion industry wonders: What's next?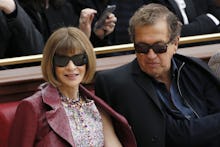 The #MeToo movement has made its way to the fashion industry. In mid-January, a story from the New York Times reported that two of fashion's most prolific photographers — Mario Testino and Bruce Weber — have been accused by multiple models and assistants of sexual exploitation and harassment.
Shortly after the report was released, mega-publisher Condé Nast, which oversees publications like Vogue, GQ and Vanity Fair, announced it would stop working with both photographers. The publisher also said it would institute a new code of conduct — on which it started work in late October, before the Testino and Weber story broke — meant to prevent sexual misconduct.
Condé Nast's new guidelines, which were outlined in another story from the New York Times, include not working with models who are younger than 18; no alcohol on photo sets; a recommendation that models not be left alone with photographers, makeup artists or any contributors; and a stipulation that any nudity or "sexually suggestive poses" in photoshoots has to be agreed upon ahead of the shoot. Additionally, Condé will work to create an anonymous reporting line for any violations.
The changes come after Hearst modified its contributor agreements to require independent contractors to reveal any harassment allegations against them and after IMG Models updated its "Model Protection" instructions to include a more detailed policy for addressing harassment.
A more detailed and thorough Condé code is forthcoming, but those rules alone indicate that publishers understand their influence in this cultural upheaval. For veteran model Emme, who is known as being the first plus-size supermodel and who said she's been aware of harassment at castings and sets since the '80s, it felt like a long time coming.
"When I first heard about these rules I was like, well, finally," Emme said in an interview. "This is a very good first step. I want to see it go to Hearst. I want to see it go to any publication house that's alive today. I want to see a united front where for those who work in fashion, this is the beginning and there's an open communication between models, agents, publications and advertisers. If there's a problem in any part of the chain, there's a real place where actions will take place with the information they have."
Edward Siddons, an accomplished journalist who once modeled himself — and who opened up in 2016 about the harassment he faced as a model in an article for Newsweek — was happily surprised by the rules too.
"I thought the new rules were surprisingly comprehensive," Siddons said in an interview. "I thought it might be flimsy, like, 'Thou shalt not rape your models on shoots.' It does understand that there needs to be reporting lines."
At the same time, Siddons said he's concerned that so much attention is being paid to the most powerful publications, when the fashion industry itself — and the harassment running through every branch of it — is so incredibly vast.
"With all these questions about Condé or whoever it may be, there's always this focus on the top-tier publications, but I think abuse is so rife in the fashion system because it has this whole kind of underworld," Siddons said. "It's diffuse and sprawling and people are interested when it comes to Vogue or Elle, but nobody cares when you're looking at smaller publications that are boutique.
"I struggle with the scrutiny the major players receive because I think part of the problem with Weber and Testino — and even through the #MeToo movement — is that we seem to be operating in a model where we're dependent on the fame of the abuser in order to get headlines," he added.
And for real change to come, there has to be a conversation on all sides and on all levels of the industry. That is something Ty Pike, who just recently launched his own agency called Nova Management that aims to make each model's well-being the real priority, already understands.
"I've been in the industry for about eight years now," Pike said in an interview. "I did casting for about four and then I moved to the agency side. I've been at some great places and learned a ton, and I think the thing that was missing was the personal factor. Communication is the biggest thing in preventing abuse. We're not there on those sets, so we don't know. We don't know if the stylist is making inappropriate comments. We don't know if they don't tell us, so the biggest thing is that you have to establish trust with the girls."
But publications can't be the only ones keeping an eye on things. As Siddons said, these rules "should not be considered the beginning or the end of the structural reform that's required."
For instance, a photographer or stylist shouldn't just be reported, but swiftly ejected from the industry if accusations against them are proven true. That's why Emme's especially concerned with Condé's reported anonymous hotline — there's so much promise there to create change, but only if it's done right.
"When somebody calls, they need to feel like they're not going to lose their next job. They need to feel like there's gonna be an investigation done, even if this person is doing a good job in the industry," Emme said. "Who is manning that line? Is that a nonpartisan party that is taking all that information down? What is the follow-up? And will there be regular meetings around the feedback that is now being pulled from the community? How will that be managed?"
There are no answers to those questions yet, though they're surely coming. Meanwhile, Siddons remains concerned about this idea of fashion publishers trying to self-regulate, instead of an independent regulatory organization or program stepping in. The Model Alliance, a policy and research organization that advocates for labor rights for models and other workers in the fashion industry, has been keen to this particular idea for years.
"Systemic change comes from the outside, like structures of advocacy," Siddons said. "You shouldn't trust magazines to regulate themselves. No industry with its profit at its core should be the ones trying to regulate. I think that a number of powerful players, be they in fashion or business, often make a move to self-regulate in order to stop being regulated from the outside. What I'm interested in is anything that dislodges power from the small group up top."
And that power shift has happened, to a small degree, because these difficult conversations on the abuse of power in fashion are happening. If it wasn't for a few people opening up to the Times, you probably wouldn't be reading this piece.
"A lot of this [abuse] happens because there is a power play to this situation," Pike said. "There is someone who thinks this shoot or whatever with this person will advance their career and they can't say no. Now something happens and people find it on social media, as they should, and careers fizzle out. Sooner or later, if something happens, then someone will find out."
With that cultural shift already taking place, what these rules are really preparing us for is a true domino effect in the industry.
"The hope is that these rules signal to the industry that these kind of minimum standards are required and [that they] introduce a domino effect from brands and other publications to realize that this kind of stuff is necessary," Siddons said. "The hope is that it will introduce new norms, that it will be a ripple effect and other brands will follow suit."
But more than a hope is the pressing need for models, agents and everyone in fashion to be exposed to these rules and understand that for the fashion industry to survive, it has to be a place where everyone feels safe.