The women of 'A Wrinkle in Time' — including, yes, Oprah — get their own Barbie dolls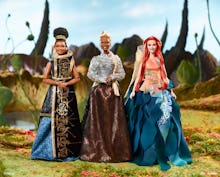 Don't deny it: You would have killed for an Oprah Winfrey Barbie doll growing up, wouldn't you?
Now an Oprah Barbie doll is actually a real treasure you can buy, thanks to Barbie's latest collection of dolls inspired by the upcoming film A Wrinkle in Time. Thus far, three characters from the film have been memorialized as Barbies — Mindy Kaling's Mrs. Who, Reese Witherspoon's Mrs. Whatsit and Mrs. Which, played by the one and only Oprah Winfrey.
Name a more iconic trio. We won't wait.
The dolls retail for $50, are specified as being more for adults than children and are remarkably detailed.
Winfrey's Mrs. Which doll comes with the character's signature face makeup.
The Mrs. Who doll comes with body paint and the character's signature glasses.
And Mrs. Whatsit comes decked out in one of her sparkliest gowns and long red hair, all of which Witherspoon rocks in the movie too.
Really, just look at the accuracy of the Oprah doll here.
The film's director, Ava DuVernay, who had a Barbie doll created in her image in 2015, was the one who debuted the dolls on Wednesday evening, writing on Twitter, "When Disney makes Barbies of your movie's characters and you just want to stare at them all day in disbelief because you loved Barbies as a girl but never had any like these."
What's extra wonderful here is that Mattel used the new Barbie doll body shapes that debuted in 2016 for these dolls, using the curvy body type for both Mrs. Which and Mrs. Who.
Now all we have left to do is wait for Winfrey's inevitable Instagram post about this doll.