Casey Affleck won't be presenting at the 2018 Oscars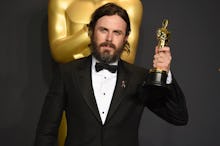 Actor Casey Affleck won't present the award for best actress at the Academy Awards this year, Deadline reported on Thursday. Affleck withdrew from presenting and told the Academy that he plans to skip the ceremony altogether, sources told Deadline. Affleck's publicist confirmed to the Washington Post on Thursday that the actor will neither present at or attend the Academy Awards in March.
Traditionally, the best actor and actress winners from the previous year present those same awards to the opposite sex during the following year — but by November 2017 there was already resistance to Affleck's presence at the upcoming Oscars. An online petition calling on the Academy to prevent Affleck from presenting at the show garnered nearly 20,000 signatures.
The backlash centered around accusations of sexual harassment against the actor. In 2010, Affleck settled lawsuits brought by two women with whom he had worked on a film that he directed, that year's I'm Still Here. Both women alleged that Affleck had sexually harassed them on set — one alleged that he had lain down next to her in a bed while she was sleeping, and she woke up to find him next to her wearing only underwear and a tee-shirt.
Affleck has seemed to dismiss the allegations, telling Variety in a 2016 interview, "People say whatever they want. ... I guess people think if you're well-known, it's perfectly fine to say anything you want. I don't know why that is. But it shouldn't be, because everybody has families and lives."
But to many, those allegations against Affleck are relevant again amid the current wave of accusations of sexual harassment and assault against powerful men in Hollywood, as well as the Times Up initiative, which aims to prevent sexual misconduct across all industries.
The Oscars will take place on March 4 and nominations were announced on Tuesday. The full list of presenters has not yet been released.