This year, the Grammys have a chance to actually be relevant. Will they?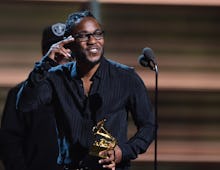 Complaining about entertainment industry awards is a great American pastime, but no ceremony gets as much as grief as the Grammys.
By some measures, the slings and arrows are earned. Even casual music fans can name egregious oversights and embarrassing wins off the top of their head — Jethro Tull snagging the first ever best hard rock/metal performance away from Metallica in 1989, Milli Vanilli winning Best New Artist the following year, Steely Dan's Two Against Nature beating Beck, Eminem and Radiohead for album of the year in 2001 — and those are only the Grammys that received attention in the mainstream press. Dig deeper into the genres and you're bound to find acts who get nominations simply because they've stuck around for years and artists who won because voters checked their box due to nothing more than name recognition.
If you think you know this and that the National Academy of Recording Arts and Sciences doesn't, you're fooling yourself. Showbiz academies may be insulated from the average working artist, but they're attuned to shifts in culture, particularly if the nasty buzz begins to build to the point where the hum overshadows the awards.
Look at the Motion Picture Academy of Arts and Sciences: Once the #OscarsSoWhite campaign reached a critical mass in 2015, the Academy took pains to diversify its membership and then Moonlight, an independent coming-of-age movie concerning a poor, gay African-American male in Miami, won best picture in 2017.
Don't expect such an upset from Sunday's Grammys, although NARAS seems to have stacked the deck to prevent the same kind of upset that happened last year when Beyonce's ambitious, impassioned song cycle Lemonade received nine nominations but was ultimately bested by Adele's prematurely old-fashioned 25.
Record of the year, album of the year, song of the year and best new artist are the only four categories every member of NARAS is allowed to vote on, every other category is limited to genre specialists. This year those categories are bereft of the kind middle-of-the-road pop exemplified by 25.
Hip-hop and R&B dominate each category, with Jay-Z — a hip-hop veteran now entering the third decade of his career — leading the pack with eight nominations. Kendrick Lamar, widely acknowledged as the best and biggest rapper performing today, comes in second with seven nominations, followed by six noms for pop polymath Bruno Mars.
The big categories also lack any rock or country nominees, a move that certainly reflects how all of the charts, from Billboard to Spotify, are dominated by hip-hop and R&B, but which also shows that at least some portion of NARAS recognizes the necessity for the organization to appear to be more inclusive and progressive.
The desire to create a savvy, broad-based Grammys is reflected in how Sunday's televised program is scheduled to feature a slew of performances from musicians who have all made their mark in the past ten years, with a good deal of them surfacing within the last five. Many of these acts are some of the most prominent nominees — Kendrick Lamar, Childish Gambino, SZA, Alessia Cara, Khalid and Logic are all competing for the big awards — but there are also some performers with fewer nods (country upstarts Brothers Osborne have just one) or none at all (British blue-eyed soul belter Sam Smith). Even the tribute to departed original rock 'n' rollers Chuck Berry and Fats Domino is fronted by roots-music hotshots Gary Clark Jr. and Jon Batiste. In this context, Lady Gaga and Kesha seem like grand old dames.
Ultimately, that's a good thing. Over the past week alone, Elton John, Neil Diamond, Slayer and Lynyrd Skynyrd all announced their impending retirement from the road, news that arrives in the wake of the revelation that Tom Petty died from an accidental drug overdose due to medications he was taking to ease a hip injury that was exacerbated while he was on tour. It's not just the classic rockers who are now a little long in the tooth, either. Gen-Xers have entered middle age, including the rappers and grunge stars that fans idolized; and, as with any generation that gets older, they've started to lose some of their cultural figureheads: Chris Cornell, Chester Bennington, Mobb Deep's Prodigy and Dolores O'Riordan have all died in the past year. It's time for the Grammys to acknowledge that a new generation, one raised with all of recorded history available at a swipe, one who is blurring boundaries between genres, is now part of the musical community.
The trick is, there's a difference between the forward-facing front the National Academy of Recording Arts and Sciences wishes to present and the voting members of NARAS. Most of NARAS consists of women and men who have paid their dues, both literally and figuratively, and they're naturally drawn to recordings that seem to mirror the work they've done over the years. While every member of NARAS — of which I am one — can nominate artists, albums and songs to various categories, many of the genre-specific final five nominees are crafted in secret "blue ribbon" committees. Depending on the composition of the genre and the individual committee, the results may vary, but they're generally an indicator of how NARAS believes the organization should be seen and how most of its members actually vote.
Those older members of NARAS, the ones who have largely been responsible for bestowing awards on Beck's Morning Phase and Adele's 25, haven't gone away. They're still here, still voting for the records that they believe showcase all aspects of their craft: the producers and engineers who run a high-end studio, the behind-the-scenes professional songwriters who sculpt lyrics and melodies, the faceless players whose instrumentals become embedded in our collective subconsciousness. This isn't just a community, it's an ecosystem, one that spreads throughout America, where the most committed continue to hone their skills despite facing dwindling prospects of financial rewards or even exposure.
Given this year's set of nominees, it's difficult to see where the votes of these members will land — maybe to Jay-Z for name recognition; maybe to Lorde, because at her core she's a singer-songwriter in the classic sense; or maybe to Bruno Mars, whose work is a cheerful, slick pastiche designed to evoke memories of the golden age of recorded popular music.
No matter what acts take home awards on Sunday night, the work of NARAS has, in a way, already been accomplished. By giving the traditionalists no safe place to vote, they'll wind up with a winner that is relatively fresh and hip: three of the five album of the year nominees placed in the top 10 of the Village Voice's annual Pazz & Jop critics poll, for instance.
That alone is a significant step forward, and one that should be seen in conjunction with a couple of other winners from this decade: Daft Punk's Random Access Memories in 2014 and Arcade Fire's The Suburbs in 2011. If either Kendrick Lamar's Damn. or Jay-Z's 4:44 somehow snag the top award, we'll have a decade where we have our third hip-hop winner along with our first electronica and indie rock winners, and if anything could be called a slow slouching toward representation, it's that.