Fundamental Reading: The 5 biggest takeaways from the 'RuPaul's Drag Race All Stars 3' premiere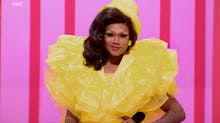 Hello my dears, and welcome to Fundamental Reading, the weekly RuPaul's Drag Race column where I'll break down the most important moments of each week's installment of RuPaul's Drag Race All Stars 3.
The shadiest reads, the most important moments nobody else is talking about, I'll break them all down for you.
Tonight's a big night: All Stars 3 premiered, and the girls all have a lot to prove. Queens like season nine's Aja, who never quite lived up to their potential the first time around, have to establish that they belong there — and others, like BeBe, just have to get through it all with their legacies in tact.
Let's get started, shall we?
1. BeBe Zahara Benet is back
That's right, BeBe Zahara Benet, the winner of the show's very first season has returned. And the "Nancy Drews" over at /r/RuPaulsDragRace knew for months.
Now, you might be wondering exactly why Ru brought back a winner, since, historically speaking, All Stars has been all about giving eliminated queens a second chance. I'll admit, I had the same thought, but Ru makes a good case, saying that it's an opportunity to introduce younger fans to the show's roots. BeBe also brings up a good point: Being on All Stars 3 represents a chance to learn and grow from the newer queens.
A little more publicity doesn't hurt either, surely.
2. All Stars 3 really loves its callbacks, doesn't it?
Drag Race has always, always been a show that delights in resurfacing jokes from seasons past, but I couldn't help but feel like this premiere leaned especially heavy on jokes and conversations about past seasons — especially All Stars 2.
The entire episode was peppered with callbacks — like Trixie's reference to Aja's famous takedown of Valentina and the countless mentions of the elimination strategies in All Stars 2 — but my tolerance finally waned when Milk quipped that, no matter what, the queens should agree to not eliminate one another based on borrowing each other's clothes. This was a nod to the reason Alaska gave in the most controversial elimination of All Stars 2, when she gave top-dog Tatianna the chop to help save Roxxxy Andrews, who had been floundering in the lower third of the competition for weeks.
References to past seasons make sense, to a certain degree: Not only was All Stars 2 an amazing season of reality television, but within the meta-game of Drag Race, it makes sense for the contestants to ruminate on the past in the hopes of figuring out effective strategies this time around.
I just hope All Stars 3 manages to form its own identity as the weeks carry on, and it isn't just All Stars 2 reheated.
3. Michelle Visage judges Morgan and BeBe for the very first time
One of the episode's unexpectedly sweet moments occurred when the judges were about to give Morgan McMichaels her critiques. Morgan noted that this will be the first time she's ever been judged by Michelle Visage, throwing the lengthy history of RuPaul's Drag Race into sharp relief. And, of course, the reason is simple: Morgan competed on season two and Visage didn't join the show until season three.
Despite the moment having precedent — Tatianna was also from season two — it was an exchange that resonated nicely with the themes BeBe brought up when Ru first unveiled her at the beginning of the episode. Younger Drag Race viewers are meeting these more seasoned queens for the first time, and the seasoned queens are having their first encounters with the modern-day universe of Drag Race, with all its social media saltiness and its new-to-them, dark-haired, big-bosomed judge.
4. Can we please talk about Vanessa Hudgens lip syncing against a literal pork chop?
The All Stars seasons have a weird problem: Since elimination decisions are made by the winning queen and not the judges, we don't really need to see the judges deliberate after the girls are excused from the stage. But the judges still need to remind viewers that they're there. So, as was the case in season two, the judges fill that time with goofy gags.
This meant we got to see guest judge Vanessa Hudgens on-stage, lip syncing against a literal pork chop that was bathed in stage lighting and held aloft by a thin pedestal.
It was awkward, stupid and campy, encapsulating exactly what makes Drag Race so good.
5. How long will BenDeLaCreme get away with playing nice?
Oh, BenDeLa. She's a sweet, charming gal, but it seems inevitable that at some point, she's going to have to fall from grace. That's especially true when the crux of All Stars 3 is eliminating your enemies one by one. And it's something her competitors — and BenDeLaCreme herself — seem acutely aware of.
When BenDeLa entered the work room, she noted that she wants to prove she can win without being "a bitch," but it wasn't long before the gang started talking about whether they'll use any kind of code of ethics when deciding who will get eliminated. And things quickly got messy.
Morgan said that if she wins a lip sync, she'll eliminate whoever in the bottom is bigger competition. BenDeLa later brings up the idea of eliminating based on the judges' critiques, which is what the queens initially agreed upon in All Stars 2. But once Morgan eventually lands in the bottom two, BenDeLa says that Morgan's elimination strategy gave her pause.
"It is hard for me to not think about, if you stay, would you knock me out?" she told Morgan.
Certainly, BenDeLa's final decision — to eliminate Morgan — is a sign that she's not as married to that code of ethics as she said. BenDeLa was stellar in her lip sync, so I'm sure it won't be long before she has to make a decision like that again.
Until next time.
Jan. 26, 2018, 1:41 p.m.: This story has been updated.