Michelle Obama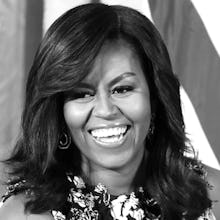 This article is a part of the Black Monuments Project, which imagines a world that celebrates Black heroes in 54 U.S. states and territories.
Michelle LaVaughn Robinson Obama: our Ivy League-degreed lawyer; our mom-in-chief; our bare-armed, healthy living advocate; our proponent of girls' education; our daughter of the South Side of Chicago; our first black first lady.
There may be no way to quantify Obama's impact on the United States. But her work in the White House and beyond is palpable to those who actually know her, and those who feel like they know her. We affectionately call her "Auntie 'Chelle" and consider her the friend we'd love to add to our circle. She is so beloved nationwide that we can't seem to stop asking her if she'd consider a presidential run in 2020. Polls say we hardly wavered on our love for FLOTUS throughout her terms, clocking in at the same 68% favorable rating at the beginning and end of her days in the White House.
Widespread love aside, black folks felt a special closeness to Mrs. Obama. Before former President Barack Obama ran for the highest office in the United States, here's how she described herself amid questions about her husband's commitment to the black community during his Senate campaign.
"I'm as black as it gets," she told an interviewer in Chicago, Peter Slevin wrote in his book Michelle Obama: A Life, the New York Times reported. "I was born on the South Side. I come from an obviously black family. ... I put my blackness up against anybody's blackness in this state, OK, and Barack is a black man."
Born on Jan. 17, 1964, Obama, née Robinson, was raised in a tight-knit family on South Euclid Avenue in Chicago. Her father tended boilers for the county water plant; her mother kept the home and made sure the children focused on their studies. Obama graduated cum laude from Princeton University in 1985 and later earned a doctorate in law from Harvard Law School in 1988, Biography.com reported. While working at the Sidley Austin law firm, she met Barack Hussein Obama, then a summer intern assigned as her mentee. They married in 1992, and later became parents to Malia and Natasha Obama.
In the early '90s, Obama left her corporate job to serve the city of Chicago. She assisted Mayor Richard Daley in 1991, and later became the assistant commissioner of planning and development for the Windy City, Biography.com said. In 1993, she worked for Public Allies, a nonprofit organization that trains young people to work in the public sector. Later, she worked for the University of Chicago, first as associate dean of student services and then for the school's medical center as vice president for community and external affairs.
It was in 2004 when Barack Obama, then a state senator, started to gain national attention. Barack Obama's electrifying speech at the Democratic National Convention that year launched him into the national political conversation. He was elected as U.S. senator that November, and in February 2007 he announced his candidacy to become the first black president of the United States. In 2008, he was elected president — and Michelle Obama became our first lady.
As first lady, Obama focused on supporting military families, encouraging work-life balance for career women and promoting community service. In 2010, she launched the Let's Move initiative to inspire kids to stay active and be healthy. Obama also started the Let Girls Learn initiative in March 2015. As we faced the 2016 election, Obama became perhaps the most memorable surrogate for Democratic presidential candidate Hillary Clinton, reminding U.S. voters of how crucial this turning point would be for the future of the nation. She lambasted Donald Trump, then the Republican presidential candidate, in speech after speech, often not even uttering his name.
Obama had a ton of fun, too. She danced with Jimmy Fallon, she dunked on LeBron James and she rapped with Missy Elliott. She wore diverse and emerging designers and declared, "Black girls rock." Through it all, she kept it real on race and racism, on how far we've come and the future that awaits us.
"The story that has brought me to this stage tonight, the story of generations of people who felt the lash of bondage, the shame of servitude, the sting of segregation, but who kept on striving and hoping and doing what needed to be done so that today, I wake up every morning in a house that was built by slaves, and I watch my daughters — two beautiful, intelligent, black young women — playing with their dogs on the White House lawn," she said at the 2016 Democratic National Convention, ABC News reported.
We salute Michelle Obama for her public service to this country and to her hometown of Chicago. It seems only right to erect a monument in Grant Park, where she first waved to us as first lady of the United States of America.