The truth comes out about Donald Trump and Robert Mueller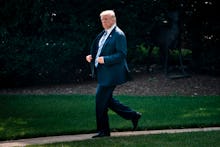 Welcome to Mic's daily read on Donald Trump's America. Want to receive this as a daily email in your inbox? Subscribe here.
Friday's dispatch: The truth about Trump and Mueller
President Donald Trump ordered the firing of special counsel Robert Mueller in June, the New York Times reported Thursday night. That revelation drew all attention back to Trump and the Russia investigation — away from the immigration debate and his trip to Davos, Switzerland.
The Times reported Trump ordered Mueller to be fired. He only backed off after White House counsel Don McGahn threatened to resign over the firing.
It also highlighted the people close to Trump who consistently said the he has never thought about firing Mueller. In June, Newsmax CEO and close Trump friend Christopher Ruddy said the president had considered firing Mueller.
That sentiment was not echoed by others close to Trump. On Aug. 6, White House adviser Kellyanne Conway said "the president has not even discussed [firing Bob Mueller]." Two days later, Trump attorney John Dowd said, "That's never been on the table, never." Ty Cobb, the White House special counsel hired to interface with Mueller, said in December "there is no consideration of firing the special counsel."
Trump himself said last August of firing Mueller: "I haven't given it any thought." He repeated in December he still was not considering removing Mueller: "No, I'm not."
If the Times report is accurate — the newspaper cited four people who were told about Trump's order to fire Mueller last June — it further calls into question the White House's credibility on the Russia investigation. "Firing the special counsel is a red line the president cannot cross," said Sen. Mark Warner (D-Va.), the ranking member of the Senate Intelligence Committee, in a statement.
Republican members of Congress were largely quiet a day after the story broke. Conservative media either dismissed or challenged the Times report. Fox News host Sean Hannity initially dismissed the validity of the story, only to acknowledge it after one of his colleagues confirmed the details. "You know, we'll deal with this tomorrow night," Hannity said. Ainsley Earhardt, a Fox & Friends host, asked Friday morning: "Do you even care?"
For his part, the president dismissed the report before his speech at the World Economic Forum in Davos, Switzerland. "Fake news. Fake news. Typical New York Times," Trump said.
Today's question: Does this news change how you view the Russia investigation?
Please email us at trumpsamerica@mic.com with your thoughts.
Friday in Trump's America:
Are things that bad? The Doomsday Clock was changed to "2 minutes to midnight" on Thursday, with scientists setting the chance of global annihilation at its highest risk since 1953, after the United States and Russia tested hydrogen bombs.
Nikki Haley: The U.S. ambassador to the United Nations called rumors of an affair between herself and Trump "disgusting" and "highly offensive."
Immigration plan: The White House announced an immigration plan Thursday night that would give 1.8 million young immigrants a pathway to citizenship but dramatically curtail legal immigration into the United States. Democrats immediately balked at the proposal, which would allocate $25 billion to Trump's border wall. It also angered conservative Republicans who felt the plan went too far in granting amnesty to undocumented immigrants.
Congress has until Feb. 8 to strike a deal to keep the government open and protect nearly 800,000 recipients of the Deferred Action for Childhood Arrivals program.
DACA recipients will be at the State of the Union on Tuesday as the guests of House Minority Leader Nancy Pelosi (D-Calif.) and other Democrats.
Trump speech: The president said in his speech to world leaders at Davos that America is "open for business" and trumpeted what he views as America's economic achievements of the past year.
Food stamps: Agriculture Secretary Sonny Perdue said at an event Wednesday in State College, Pennsylvania, that more food stamp recipients should have to work to receive government assistance. The Trump administration will push for that change to be incorporated into the 2018 farm bill.
Trump lawsuit: Maryland attorneys found hope in a federal courtroom outside Washington, D.C., on Thursday as they argued the state has been hurt by payments to Trump's real estate company from other countries and states. The federal judge suggested he sees merit to advancing the case, which follows a New York federal judge dismissing a similar case.
Pat Meehan: The Pennsylvania Republican congressman will not seek re-election after controversy over alleged sexual harassment and a settlement with a former aide.
Russian influence: Russian agents on social media were able to convince hundreds of thousands of Americans to RSVP to political events in the United States from computers in Russia.
Oprah 2020: The short-lived speculation about Oprah Winfrey's presidential bid appears to have died. The celebrity said in a new interview she does not "have the DNA for it." However, the interview took place before her Golden Globes speech.
TPS lawsuit: The NAACP sued the Trump administration over its decision to end the temporary protected status designation for tens of thousands of Haitians who fled to the U.S. after a devastating 2011 earthquake.
"Secret society" joke: "Congressional Republicans fanned out across cable television networks this week to sound the alarm over a possible "secret society" within the FBI that they said was plotting to take down Donald Trump's presidency," Mic reported. "It turns out the text Republicans have been raising concern over appears to be a joke between two FBI agents."
Sen. Mitt Romney? The 2012 GOP presidential nominee is planning to announce his Senate bid next week, according to a Utah political news website.
Today's MicBite:
How food can play a role in improving depression among one of New York City's fastest-growing immigrant populations. Click or tap below to watch the video.