Andreja Pejic responds to Miroslava Duma's transphobic video: "One day we'll see revolution"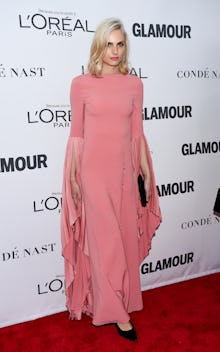 Earlier this week, designer Ulyana Sergeenko and Miroslava Duma, a street style star, brought a major fashion scandal to Paris Couture Week when Duma showed off a note on social media from Sergeenko that read: "To my niggas in Paris."
The two women, who are both white, have been criticized by some of fashion's most powerful players — including Naomi Campbell — with more condemnation raining down on Duma after a video showing her making discriminatory remarks at a conference in 2012 materialized on the internet.
In the video, an audience member asks Duma about the hugely popular fashion blogger Bryanboy and model Andreja Pejic: "You mentioned Bryanboy and his style... he wears women's clothing. Female fashion is being modeled by men now. What is your opinion on, say, Andrej Pejic who advertises women's swimsuits? Would you consider that normal?"
To that, Duma responds: "Honestly, I dislike that. Because somewhere, on TV or in a magazine, a little boy could see it and that boy wouldn't understand it correctly, wouldn't react correctly. And I think a certain kind of censorship and refined culture is needed here."
Then asked if she would feature Bryanboy or Pejic on her website, Buro247, Duma says she's concerned with "beauty and purity" and goes on to thank god that "there aren't that many of them."
Duma apologized for the remarks on Wednesday but now Pejic, who came out as transgender in 2014, worked with major designers including Marc Jacobs and landed in Vogue, has responded on Instagram to Duma's inflammatory remarks in a statement that highlights how far fashion has come.
"I woke up to a video yesterday, where a woman by the name of Miroslava Duma said some pretty ugly things about [Bryanboy] and me during a conference," Pejic wrote. "I wont say it wasn't hurtful. However instead of focusing on this blatant ignorance, I couldn't help but realize the contrast between the state of our business today in comparison to 2012, the year of this video."
"Fashion hasn't always celebrated, to quote [Duma], 'people like us,'" Pejic wrote on. "Today I can say I've walked for iconic designers like Marc Jacobs and even landed on pages of American Vogue as none other than myself. However for a long time I didn't believe that I was deserving of a firm place in fashion. I remember when I was one of only two people representing a specific 'trend' that many people would now place under the title 'gender diversity in the fashion space.'"
"Today we are part of a movement of unique talent that is smashing the old categories that once stood and proudly displaying a spectrum of age/color/gender/class."
After writing that she and her peers are "part of a movement of unique talents that are smashing the old categories that once stood and proudly displaying a spectrum of age/color/gender/class," she offers a message to people who may connect with her story, saying "Evolution is no stranger to our cause and one day we'll see revolution."
Although Bryanboy hasn't directly responded to Duma, he has been posting about his own journey with fashion, being labeled weird and bigotry on Instagram.
"Bigotry and discrimination comes in many shapes and flavors," he wrote on Instagram on Thursday. "Most are blatant and straightforward (some get beaten up, some even get killed) but then there are times when it happens behind your back, behind closed doors. ... Homophobia, transphobia and racism should never, ever, EVER have a place in society."
Mic has reached out to both Pejic and Bryanboy for further comment.