Panera is pushing fast food companies to clean up their menus — but consumers should be skeptical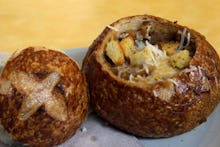 Panera wants to help its fast food competitors be more like them, by cleaning up the artificial ingredients in their menus. The company announced on Monday the launch of its Clean Consultant services, a coalition of experts who can advise brands who want to transform their menus and serve cleaner ingredients.
What does clean even mean?
"Clean for us has always been about having high-quality ingredients that we feel really great about serving ourselves and our own families," Sara Burnett, Panera's director of wellness and food policy, said in an interview. More specifically, Burnett said that clean means serving food free of artificial flavors, sweeteners and colors.
Panera has been transparent throughout the process of cleaning up its menu, which it now considers 100% clean. In 2015, it published a "No-No List" of more than 150 ingredients it deemed no longer acceptable to serve its customers. In a little more than a year of publicizing its commitment, Panera achieved its goal of removing all of these ingredients from its food.
To date, there is no official definition from the Food and Drug Administration for the word "clean."
Why is Panera meddling with its competitors?
Burnett said other brands in the industry have approached Panera in the past for guidance about getting clean, though she wouldn't explicitly say which ones. The Clean Consultant evolved as Panera thought about its place in the food world and what it would like the future of food to look like. "We have a wealth of knowledge and expertise [on being clean]," Burnett said. "We thought, if this is something we're really passionate about, then it's something we should help others in the industry with. It's easy to point out the problems [in the food industry], but we really want to be a part of the solution and move the industry along faster."
This isn't Panera's first foray in serving as a kind of moral compass for the fast food industry. In 2004, the company started to source antibiotic-free chicken, inciting change in the industry at large. (Antibiotic-raised meat is an issue of controversy, in part, because research has linked it to antibiotic-resistant illnesses in humans.) While the change forced Panera to increase the price of its chicken, the company reported that rather than driving away customers, their sales increased.
Burnett said other brands slowly learned from this chain of events. A bit more than a decade later, McDonald's announced a commitment to "only serve chicken raised without use of medically important antibiotics across its approximately 14,000 domestic restaurants," a study from the National Resource Defense Council reported.
So what's the catch?
The Clean Consultant isn't a full-on charity. Burnett said she and her colleagues will perceive the group as a non-profit, but it will charge the companies they work with for "time spent and the resources used."
This consulting fee won't directly affect the consumer. But there is an issue of misguiding consumers, who are already forced to wade through the tough-to-navigate world of food and health. Most experts would probably agree that foods without artificial preservatives, colors and sweeteners — Panera's definition of clean — are preferable to foods that do contain them. But blanketing this criteria under the label "clean" and encouraging other brands to do the same could lead consumers to make purchasing decisions guided by a psychological phenomenon called the health halo.
A food – or food company — develops a health halo when consumers perceive the entire item to be healthful based off a single claim. Take the word "natural," for example. A 2016 survey from Consumer Reports revealed that 73% of consumers seek out the word natural when deciding what food to buy. Many of these buyers believe that the label indicates the product is made without GMOs, pesticides, artificial ingredients or hormones. But none of that is true. The FDA had no formal definition of "natural" at the time, nor did it regulate the world. After much petitioning, the administration is currently in the process of developing clearer guidelines for that particular label.
Who's to say the same thing won't happen with the word "clean," especially if more and more brands adopt the term on their menus? While Panera claims its definition of "clean" is consistent and clear, the brand can't control what others decide to do with the terminology. Others may view Panera's success with their clean menu as a chance to earn dollars themselves, without making the same ingredient commitments as their clean competitor.
The most confusing thing about Panera's new campaign is that the brand knows firsthand what can happen when a term goes unregulated. In early January, Panera petitioned the FDA to define the word "egg," knocking its competitors for serving breakfast sandwiches with artificial additives without being upfront with its customers.
Consumers who are truly invested in eating clean might be wise to first define what that means to them and second, do their research before buying into marketing terms.