US condemns "cowardly" Taliban attack that left at least 95 dead, 150 wounded in Kabul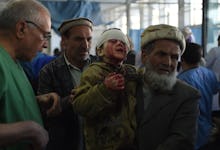 The United States is condemning the perpetrators of a "cowardly" attack in Kabul on Saturday that left at least 95 dead and more than 150 injured on a packed street in Afghanistan's capital city.
"Our thoughts are with the victims and their families, and we stand with the brave people of Afghanistan," State department spokesperson Heather Nauert tweeted Saturday.
The Taliban took credit for the carnage, which occurred when a bomb that had been placed inside an ambulance exploded on a guarded street near government buildings and several embassies.
The ambulance made it through one checkpoint, but was stopped by police at a second checkpoint — at which point the driver detonated the explosives, killing nearly 100 people and wounding at least 158.
Officials on Saturday said they expected the death toll to rise.
It was the deadliest attack in the country since a truck bomb claimed 150 near the German embassy there in May 2017, according to Reuters, and came less than a week after the Taliban killed 22 people — including several Americans — in a siege on a Kabul hotel.
The flailing Afghan government has been struggling to address rising violence in the country.
President Donald Trump in August committed to putting more U.S. troops in Afghanistan to "[attack] our enemies, [obliterate] ISIS, [crush] al-Qaeda, [prevent] the Taliban from taking over the country." He also put pressure on Pakistan over their "lies & deceit" earlier this month, saying that the country was providing "safe haven to the terrorists we hunt in Afghanistan."
"No more!" Trump tweeted, cutting security aid to Islamabad and raising fears of retaliatory violence.
"Today's attack is nothing short of an atrocity, and those who have organized and enabled it must be brought to justice and held to account," Tadamichi Yamamoto, head of the United Nations Assistance Mission in Afghanistan, said in a statement following Saturday's bombing. "On behalf of the United Nations in Afghanistan, I express our deep condolences to the families of the victims and wish a speedy recovery of the injured."