This week in Trump-Russia news: Why is the president so hostile to the people investigating him?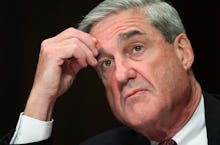 President Donald Trump — who has maintained that he has nothing to hide when it comes to his relationship with Russia — attempted to fire Robert Mueller in June 2017, the New York Times reported Thursday.
He declined to do so, however, when White House counsel Don McGahn said that terminating the special counsel would be disastrous for his presidency and threatened to quit.
The story — which Trump dismissed Friday as "fake news" — has once again raised strong suggestions that the president has sought to obstruct justice in the ongoing Russia investigation.
Here's what you need to know about Mueller's near-dismissal — and everything else that went down during a busy week in the Trump-Russia story.
Trump ordered Mueller fired — but backed down
It's no secret that Trump has mulled axing Mueller.
Newsmax CEO Chris Ruddy, a friend of the president, said on CNN in June that terminating the special counsel was something Trump was "considering."
"Mueller is illegitimate as special counsel," he said at the time. "There is no evidence of wrongdoing, there's no evidence of collusion, there's no evidence of obstruction."
But Trump and members of his team denied that the thought ever crossed his mind and have praised the president for cooperating with the investigation.
The report this week contradicts those denials.
According to the Times, Trump ordered Mueller fired because of conflicts he said the special counsel had, including an apparent disagreement in 2011 over dues at Trump's Virginia golf club that caused the then-FBI director to cancel his membership.
But McGahn refused to follow the order and told Trump he'd rather quit than ask the Department of Justice to can Mueller, who was appointed special counsel in May after the president fired former FBI Director James Comey.
Democrats renew calls to protect Mueller
The report immediately posed a problem for Trump's allies like Sean Hannity, whose brain appeared to break as he attempted to defend the president during his Fox News program on Thursday.
Hannity initially dismissed the Times reporting, saying that Fox News sources had been unable to confirm it. But when they did soon after, he attempted to pivot and say that the president didn't do anything wrong in trying to fire the special counsel.
But Democrats immediately renewed their calls to keep Mueller safe from Trump.
"To forestall a firestorm, looming closer, Congress must act now to protect the Special Counsel against Trump firing," Sen. Richard Blumenthal (D-Conn.) tweeted on Friday.
Sen. Cory Booker (D-N.J.) — who, with Sen. Lindsey Graham (R-S.C.), introduced legislation last summer to block Trump from firing Mueller — told Anderson Cooper in a CNN interview after the report that Trump displayed "authoritarian tendencies" that could "destroy the norms of our democracy."
"We have a very serious situation with this president that ultimately is unchecked right now," Booker said.
Trump's behavior raises obstruction questions
Trump's reported attempt to fire Mueller over the summer fits into a suspicious pattern of hostility toward the Russia investigation.
He's raged against the probe since the beginning, complaining in the early days of his presidency that "Russia talk is FAKE NEWS put out by the Dems, and played up by the media, in order to mask the big election defeat and illegal leaks!"
Things reached a fever pitch in May, when Trump fired Comey — who would later testify that the president had pressured him to kill the FBI investigation into Michael Flynn.
That apparent attempt to get Comey off Flynn's back would come to look even shadier in December after the short-lived national security adviser pleaded guilty to lying to the FBI about his Russia contacts.
"I had to fire General Flynn because he lied to the Vice President and the FBI," Trump tweeted, implying he knew about Flynn's lies when he urged Comey to consider "letting Flynn go" — what some said amounted to an obstruction of justice admission.
In addition to the attempted Mueller firing, it was also reported Friday that the president had lobbied top aides in June 2017 to undermine FBI officials he believed would testify against him in the Russia investigation.
"I don't understand why he seems to want to interfere with this process," Rep. Charlie Dent (R-Penn.) said in a CNN interview Saturday.
Trump (might be) willing to interview with Mueller
The special counsel has appeared increasingly focused on obstruction in recent weeks, and is looking to interview Trump about the terminations of Flynn and Comey, it was reported this week.
Trump has waffled when asked if he'd testify before Mueller's team, but said Wednesday that he'd interview under oath with the special counsel's office.
"I'm looking forward to it, actually," he told reporters.
But Ty Cobb — one of the president's lawyers — backtracked, saying Trump will meet with investigators, but that "he'll be guided by the advice of his personal counsel" when he does so.
How and when such an interview would be conducted isn't yet clear.
The special counsel is apparently seeking to meet with the president in coming weeks, but Trump's lawyers would like to structure the meeting in a way that leaves him less vulnerable, reportedly hoping to allow him to answer at least some questions in writing rather than a face-to-face interview.
"Secret society" conspiracy theory begins to unravel
Republicans for weeks have been attempting to discredit the Mueller investigation, suggesting that the FBI is engaged in a politically motivated witch hunt against Trump.
They've been pushing for a memo by Rep. Devin Nunes (D-Calif.), one of Trump's top allies on Capitol Hill, to be released publicly. They say it demonstrates an anti-Trump conspiracy at the FBI. They've also warned that a text between two FBI agents points to the existence of a "secret society" within the bureau aimed at bringing down Trump.
But that conspiracy theory seemed to unravel this week, when the "secret society" text was revealed to have been an apparent joke.
"Are you even going to give out your calendars? Seems kind of depressing. Maybe it should just be the first meeting of the secret society," FBI lawyer Lisa Page wrote in the text to Peter Strzok, the FBI agent with whom she was having an affair.
Tensions have been high between Trump, his allies and the FBI.
Trump, it was reported this week, asked Andrew McCabe who he voted for after he took over as acting FBI director in the wake of Comey's firing. The president was said to be wary of McCabe's wife's ties to the Clinton family.
Trump has repeatedly suggested that links between McCabe's wife and his former Democratic opponent, Hillary Clinton, indicate that the FBI is conspiring against him.
He also blasted Jeff Sessions, the attorney general, for not replacing McCabe as acting FBI director in a July tweet.
Sessions reportedly attempted to pressure Christopher Wray, who took over as FBI director in August, to clean house at the bureau — and to dismiss McCabe, the deputy director, at the president's urging.
But Wray threatened to resign if he was forced to get rid of McCabe, according to reports this week.
More recently, Trump has turned his ire on Rod Rosenstein — the deputy attorney general who has been overseeing Mueller's Russia probe since Sessions recused himself early last year.
According to CNN, the president has been frustrated with the deputy attorney general for months — and has mused about firing him, a move that could be seen as another attempt to impede the Russia investigation.
"When this comes up — everyone says, 'That's the death march. That's not going to accomplish anything,'" a source told CNN.