GOP congressman: Trump "seems to want to interfere" with Russia probe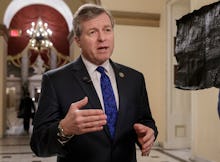 President Donald Trump has attempted to block the FBI's Russia probe, Rep. Charlie Dent (R-Penn.) suggested in a CNN interview Saturday.
"I don't understand why he seems to want to interfere with this process," Dent said.
The comments came on the heels of a report that Trump had ordered the firing of special counsel Robert Mueller over the summer, but backed off after White House counsel Don McGahn threatened to resign.
The story — which Trump told reporters in Davos, Switzerland, was "fake news" on Friday — has once again given the appearance that Trump has sought to obstruct justice as the FBI investigates his campaign's ties to Russia.
Dent — who told CNN that he disagreed with the president's decision in May to terminate former FBI Director James Comey — also urged his Republican colleagues earlier this week to "temper their rhetoric" as they ramp up their criticisms of the Mueller investigation.
"I think it's important that we not undermine the American public's confidence in the Justice Department and the FBI," Dent said on CNN Wednesday.
A number of Republicans, including Rep. Devin Nunes (R-Calif.), have been alleging an anti-Trump conspiracy at the DOJ and FBI in an attempt to discredit the special counsel.
While Dent said Wednesday that there may be some "bad apples" in federal law enforcement, he said he has "confidence" in Mueller and that Republicans should not undermine the probe.
"I have confidence in Director Mueller that he is going to run a thorough, fair, professional investigation," Dent said. "We should not do anything to undermine this investigation."