Sen. Joe Manchin criticizes Nancy Pelosi's comments on Trump's immigration plan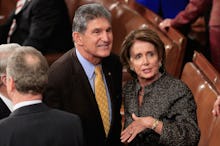 The current round of bipartisan immigration talks is raising tensions in Washington — even among members of the same party.
Democratic Sen. Joe Manchin of West Virginia criticized one of his party leader's divisive rhetoric in the immigration debate during an appearance on CNN's State of the Union Sunday, responding to a comment made by House Minority Leader Nancy Pelosi. The Democratic leader decried Trump's immigration proposal as being part of a campaign to "make America white again."
"We don't need that type of rhetoric on either side, from Nancy, Paul Ryan or anybody else," Manchin said. He added, "The president has laid out a template. We're going to look at that template, and we're going to work with it."
Later in the interview, Manchin clarified that he was not condemning Pelosi specifically, but rather "all this crazy rhetoric that goes on."
"Just because someone's a Republican, [they're] not my enemy," Manchin said. "We have to work together."
Trump's immigration proposal, which includes a pathway to citizenship for DACA recipients and $25 million in border wall funding, has been attacked by Democrats for its proposed changes to legal immigration. The proposal would eliminate the diversity visa lottery as well as restrict family-based immigration severely, which has been partially responsible for transforming the U.S.'s diversity since it first took effect in the 1960s.
Pelosi's comments also reflect a recent wave of allegations describing the president as racist, after Trump made comments describing Haiti and African nations as "shithole countries" while openly wondering why there weren't more immigrants from Norway, a predominantly white country.
Manchin advocated doing "whatever we can to secure the border" in the Sunday CNN interview, though he did not comment on the proposed changes to legal immigration. The West Virginia senator instead said there should be a balanced solution based on the "big" move of creating a pathway to citizenship for some undocumented immigrants and spoke in favor of taking a bipartisan approach.
"I'll work with Susan Collins. Our commonsense coalition will be the grounding, if you will, of what will pass, or what can move, through the Senate," Manchin said, adding that the group would soon resume talks to "find that commonality that we've been able to do."
"Let's get down to business and fix it. We can do it," Manchin said. "The president has laid out what he wants. That's a good starting point. Let's see if it's something we can agree on, something we can adjust and something we can negotiate with."