Republican lawmakers defend Mueller's investigation in wake of news Trump tried to fire prosecutor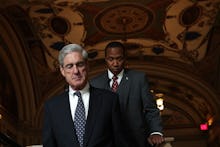 In the wake of a New York Times report alleging President Donald Trump previously attempted to fire special prosecutor Robert Mueller, the president's Republican colleagues spoke out Sunday against his thwarted decision.
During interviews on the Sunday morning shows, several Republican lawmakers were quick to defend the ongoing investigation into potential collusion between the Trump campaign and Russia, decrying the president's attempt to bring it to an end through Mueller's termination. According to the Times report, Trump allegedly demanded Mueller's firing in June, only to back down when White House counsel Don McGahn threatened to resign over the decision.
In an appearance on ABC's This Week, Sen. Lindsey Graham spoke out against Mueller's potential firing, saying that while he "see[s] no evidence that President Trump wants to fire Mr. Mueller now," the potential decision to do so would carry some dire consequences.
"It's pretty clear to me that everybody in the White House knows that it'd be the end of President Trump's presidency if he fired Mr. Mueller," Graham said.
Graham also praised Mueller as the right man for the job Sunday and reiterated his support for legislation protecting Mueller's employment. The South Carolina lawmaker has cosponsored a bill with Sen. Cory Booker (D-N.J.) that would shield Mueller from Trump by requiring the attorney general — or deputy attorney general, in Mueller's case — to petition a panel of federal judges in order to terminate a special prosecutor. The proposed bill is one of several current pieces of legislation that would protect Mueller.
"I think Mr. Mueller is the perfect guy to get to the bottom of all this, and he will," Graham said Sunday. "I think my job, among others, is to give him the space to do it, and I intend to do that, and I've got legislation protecting Mr. Mueller, and I'll be glad to pass it tomorrow."
Sen. Susan Collins (R-M.E.) also showed support for legislation protecting Mueller Sunday, saying in an appearance on CNN's State of the Union that she thinks it "probably wouldn't hurt" to pass one of the proposed bills.
"There are some constitutional issues with those bills, but it certainly wouldn't hurt to put that extra safeguard in place given the latest stories," Collins said.
The Maine senator described the report about Trump firing Mueller as being simply a "bad idea," telling host Jake Tapper: "He talked with his counsel, who explained to an angry and frustrated president why it was a bad idea. And that was seven months ago and the White House counsel is still on the job, and Mr. Mueller is still aggressively investigating, and that's as it should be."
Should Trump decide to fire Deputy Attorney General Rod Rosenstein, however, Collins said Sunday the move would be a "terrible mistake." As the attorney general in charge of the special investigation is the only one with the power to fire the special prosecutor — and Rosenstein is unwilling to do so — Trump would have to fire Rosenstein and appoint a deputy attorney general willing to fire Mueller in order for him to be terminated, as President Richard Nixon did during the Saturday Night Massacre.
"We've seen what happened back in the Nixon administration when President Nixon in the Saturday Night Massacre kept going down the line until he found someone who would fire the special counsel, and that didn't end very well," Collins said.
House Majority Leader Kevin McCarthy (R-Calif.) was less enthusiastic about passing a bill protecting Mueller, saying in a Sunday appearance on Meet the Press that he "doesn't think there's a need" for such legislation — yet McCarthy still said he had confidence in the special prosecutor.
"Look, the president and his staff has fully cooperated ... and I think we'll just continue this investigation and see where it goes," McCarthy said.
"Do you have confidence in Bob Mueller?" host Chuck Todd asked.
"Yes," McCarthy responded.
Another Republican defending Mueller Sunday was Rep. Trey Gowdy (R-S.C.), who championed the special prosecutor as a "fair investigator" on Fox News Sunday.
"One hundred percent, particularly if he's given the time, the resources and the independence to do his job," Gowdy said when asked by host Chris Wallace if he trusted Mueller to conduct a "fair and unbiased" investigation. "Chris, he didn't apply for the job. He's where he is because we have an attorney general who had to recuse himself. So Mueller didn't raise his hand and say, hey, pick me. We, as a country, asked him to do this."
"The last time you and I were together, I told my Republican colleagues, leave him the hell alone, and that's still my advice," Gowdy added.