Don't blame Bruno Mars for the Grammys being the way they are. Blame the Grammys.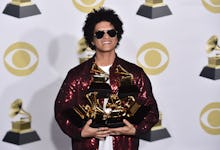 Bruno Mars running the table on his six nominations appears to be the perfect punchline to the 2018 Grammy Awards. The voters that compose the National Academy of Recording Arts and Sciences found a way to puncture the seemingly progressive intentions of the nominating committees and deliver a win that reveals just how far the organization has to go before they're truly woke.
It's an easy jab that contains a kernel of the truth because the Grammys have a long history of bestowing their three biggest awards — record of the year, song of the year and album of the year — upon music that doesn't quite capture the zeitgeist. Case in point: In 2017, Adele's perfectly polite blockbuster 25 bested Beyoncé's lacerating Lemonade, a record that was critically admired and widely beloved.
Mars' big 2018 winner, 24K Magic, falls somewhere between 25 and Lemonade in terms of popular affection. It earned positive notices upon its November 2016 release and has gone onto double-platinum certification by the Recording Industry Association of America, but its success isn't galvanizing. It's a record that simply was absorbed into the fabric of pop culture, heard in the background and on bumpers, music designed to please the biggest crowd possible. 24K Magic's very win proves that it did its job well.
Nevertheless, context matters. It's easy to see the reasons why Bruno Mars won all those Grammys during Sunday's ceremony, but his cheerful throwback R&B seems out of step in a politically charged year. Certainly, the NARAS nominating committees seemed to be stacking the decks in favor of a hip win in 2018, as they gave Jay-Z eight nominations and Kendrick Lamar seven, setting the stage for a battle of hip-hop royalty for record of the year, album of the year and song of the year. The fact that Mars snuck in and took all three awards, along with the three other awards for which he was nominated, gives the appearance of this being a Grammy upset for the ages.
This is unfair to 24K Magic, which isn't as sleepy as such recent winners as Mumford and Sons' Babel (2013) or Beck's Morning Phase (2015), but also is the first R&B album to take home the big award since Ray Charles' Genius Loves Company in 2005. Mars isn't a dull, old white rocker; he's the epitome of a modern pop star: a person of color who makes music that cannily repurposes the past in splashy, savvy fashion. Perhaps he designed 24K Magic as a tribute to '90s R&B, but its sparkling surfaces feel fresh even if his proud professionalism is undoubtedly the kind of work NARAS — a group of which I am a member — is eager to honor.
Mars' big night also obscures bigger problems within NARAS' voting public. Take a closer look at the categories that were announced ahead of the televised broadcast and they're filled with acts who likely won by sheer name recognition alone. Leonard Cohen took home the Grammy for best rock performance for "You Want It Darker," a posthumous win that's strange, whereas the Foo Fighters' award for best rock song simply feels predictable. LCD Soundsystem wound up with best dance recording, while Kraftwerk took best dance/electronic album, both beneficiaries of being the best-known nominee in their respective categories.
Even the worthy wins of Chris Stapleton and Kendrick Lamar — who won every Grammy they were nominated for in country and rap, respectively — suggest that the industry views these artists as titans within their genres; before last night, Stapleton had two Grammys and Lamar had seven, proof that they're favorites of NARAS voters. It's hard not to think that it would be better for the overall health of a particular genre if the awards were spread around to more than a handful of already-decorated stars.
Still, the biggest upset of the night was when Ed Sheeran beat Kelly Clarkson, Lady Gaga, Pink and Kesha for best pop solo performance. Everything seemed to be in place for a win for Kesha, especially because the Grammys were promoting her "powerful" performance of "Praying" ahead of the broadcast, but Sheeran's "Shape of You" took the trophy, mirroring his win for best pop vocal album. Sheeran's wins make sense from a certain perspective: Only Taylor Swift and Adele sell more records than him and "Shape of You" stayed on the charts longer than "Despacito," the Lusi Fonsi and Daddy Yankee smash that also went home empty-handed. Nevertheless, his win felt dispiriting because it wound up highlighting how #MeToo and Time's Up have yet to really gain a foothold in the music industry.
Kesha's star-studded performance of "Praying" was intended as a rallying call, and while it delivered a moment of catharsis, its presence in the show highlighted how few women were winning awards. Best new artist winner Alessia Cara and Rihanna, who shared an award with Kendrick Lamar for best rap/sung performance, were the only women who accepted an award during the broadcast. Offscreen, the numbers weren't much better: Of the 84 categories, women wound up winning around 20 of these awards, which is a paltry sum.
Clearly, NARAS has some work to do in regards to representation and parity, a situation that is already being noted with the hashtag #GrammysSoMale. Recording Academy president Neil Portnow's initial comments on Sunday about how "women who have the creativity in the hearts and souls, who want to be musicians, who want to be engineers, producers and want to be part of the industry on the executive level … [they need] to step up because I think they would be welcome" aren't particularly encouraging.
Sunday's Grammys showed ample evidence of women who are indeed stepping up and delivering heartfelt, creative music. The problem doesn't lie with the musicians; it's with the voters who reflexively award the familiar at the expense of the future.