A preview of Donald Trump's first State of the Union address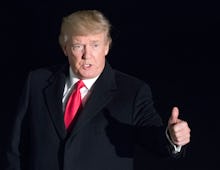 Welcome to Mic's daily read on Donald Trump's America. Want to receive this as a daily email in your inbox? Subscribe here.
Monday's dispatch: A preview of Donald Trump's first State of the Union address
In February 2017, President Donald Trump triggered a long applause during an address to a joint session of Congress when he told the story of Ryan Owens, a Navy SEAL who died in January in a raid in Yemen. Trump directly addressed Owens' widow Carryn, who was seated next to Ivanka Trump.
The moment was seen as an emotional and political highpoint for Trump after a highly controversial first six weeks in the Oval Office. On Tuesday, expect Trump to again use the power of the presidential pulpit to win praise for his tone and presentation after a controversial first year.
In his speech, Trump is expected to tout the state of the economy and passage of the Republican tax package. The pace of economic growth and the rise of the stock market has continued under Trump at the same rate it was growing during Barack Obama's later presidential years.
Trump is expected to announce that Guantanamo Bay — a federal prison in Cuba that Obama promised to close but never did — will remain open. And Trump will likely highlight why his immigration proposal, released last week and widely denounced, should be accepted.
Rep. Joe Kennedy III (D-Mass.), a third-term congressman and the grandson of onetime presidential candidate Bobby Kennedy, will deliver the Democratic response to the State of the Union. Kennedy will look to avoid becoming another footnote to the event and introduce himself to a nation hungry for young, passionate leadership from Democrats. Elizabeth Guzman, a newly elected Democratic member of Virginia's House of Delegates, will deliver the party's Spanish-language response to Trump.
The guests at this year's State of the Union will highlight multiple legislative fights currently before Congress. Republicans are bringing veterans, members of law enforcement and business leaders to combat their focus on fighting crime and cutting taxes. Democrats are bringing immigrants, including recipients of the Deferred Action for Childhood Arrivals program and leaders of the #MeToo movement to highlight their push to protect immigrants and strengthen sexual misconduct policies.
Trump's speech will be broadcast at 9 p.m. Tuesday by all major TV networks.
Today's question: What do you hope to see during Trump's address?
Please email us at trumpsamerica@mic.com with your thoughts.
This week in Trump's America:
Abortion: Senate Republicans plan to vote this week on a House-passed bill to ban abortions after 20 weeks — a measure that is unlikely to pass but will put pressure on red-state Democrats like Sens. Heidi Heitkamp (D-N.D.) and Claire McCaskill (D-Mo.)
Monday deadline with Russia: The Trump administration will on Monday have to decide whether to impose stiff penalties, passed by Congress, on companies doing business with Russian intelligence and defense sectors. Senators expressed skepticism to Politico that Trump will crack down on Russian President Vladimir Putin's government by the deadline.
In the next five weeks: Another bill must be passed to fund the government by Feb. 8, a week from Thursday. DACA will officially end on March 5, without congressional action. The deadline to raise the federal debt ceiling looms in early March.
With all that on the line, Senate Minority Leader Chuck Schumer (D-N.Y.) told the Washington Post he is worried Trump may torpedo key deals over the next few weeks on immigration and government spending.
Sunday shows: Republicans, from Sen. Susan Collins (R-Maine) to Rep. Trey Gowdy (R-S.C.), defended special counsel Robert Mueller during television interviews. But so far, the GOP has done little in Congress to actually protect his investigation.
Owning up: Sen. Marco Rubio (R-Fla.) fired his chief of staff after complaints of misconduct arose. Rubio's office declined to provide details.
Owning the middle: Sen. Joe Manchin (D-W.Va.) faces 2018's toughest election on paper. Trump won Manchin's home state by 42 percentage points in 2016. On Sunday, Manchin criticized comments by Rep. Nancy Pelosi (D-Calif.) about Trump's immigration plan and dismissed Trump reportedly wanting to fire Mueller as "New York talk."
"Record-setting": The political network of the conservative Koch brothers plans to spend $400 million in the 2018 election cycle.
5G: To remain competitive with countries like China, the U.S. is considering nationalizing the construction of a 5G wireless network — removing that duty and cost from the private sector, Axios reported.
How the GOP could inadvertently expand Medicaid: With Republicans now able to impose work requirements on Medicaid recipients, several conservative states are looking at doing what was recently unthinkable: expanding Medicaid.
RNC finance chair: Steve Wynn, a billionaire and the top fundraiser for the Republican party, stepped away from his role with the GOP a day after allegations against Wynn of sexual harassment surfaced.
Today's MicBite:
Mic's Aaron Morrison reports what you really need to know about the black unemployment rate after a spat between Trump and rapper Jay-Z on the issue. This is a must-watch. Click or tap below to see for yourself.