It's time to do away with the pointless State of the Union response speech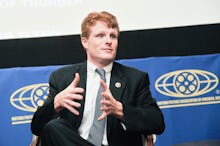 President Donald Trump on Tuesday will issue his first-ever State of the Union address, only his second address to a joint session of Congress. And as with every State of the Union in recent history, that will mean opposition Democrats get a chance to combat the president's preferred narrative with their official State of the Union response.
Democrats have chosen Massachusetts congressman and political dynasty member Joe Kennedy III to deliver their response, and already pundits are trying to assess what that means for the future of the party.
But if past is precedent, the choice of Kennedy means exactly one thing and one thing only — a pretty terrible night for Joe Kennedy.
That's because when it comes to big flashy political events, the State of the Union response has reliably been a complete dud for a number of obvious reasons.
The optics are terrible
The State of the Union, for all its usual banality, is a highly choreographed event. It takes place in the august House of Representatives chamber, given before a captive audience of which at least 50% stand to cheer between every clause. But most importantly, it is carried by a a pool feed from major broadcast networks, with multiple camera angles of the president and reaction shots from the crowd.
Even the occasional shot of a disgruntled attendee from the opposite party or odd celebrity guest cannot take away from the fact that everyone has gathered to hang on the president's every word.
The State of the Union response, however, is a much more low-budget event. It's usually delivered awkwardly to a single head-on camera, with no cheering crowd to react to the speakers points.
The lack of energy and thought that goes into staging the response has led to some of its most embarrassing moments. For example, Sen. Marco Rubio (R-Fla.) was infamously forced to reach awkwardly off-screen to hurriedly take a sip of water during his State of the Union response in 2013.
In 2011, when then-Rep. Michele Bachmann (R-Minn.) gave the unofficial "tea party" response (more on that later) she was forced to read from a prompter just out of alignment with the camera, leading to an odd experience for the viewer and a litany of bad jokes about her looking at the wrong camera.
In the 2017 response to Trump's first joint session of Congress, Democrats tried to switch up the normal flag-draped scenery and had former Kentucky Gov. Steve Beshear deliver his response from a diner in his home state of Kentucky, surrounded by a random group of locals who were forced to stare silently at the back of Beshear's head for the entire speech. Beshear, for his part, made the response all the more awkward by accidentally declaring himself a Republican less than 30 seconds into his prepared remarks.
There are an endless number of them
The official State of the Union respondent is designated by party leadership and has their speech carried on network television after the president's address.
But the proliferation of social media and the ease with which anyone can broadcast video in real time means the number of unofficial "responses" to the State of the Union have skyrocketed, even as it becomes clearer that choosing to do is just one big unforced error.
The era of unofficial responses began in 2011, when Bachmann delivered the first "tea party response" to the State of the Union. Even though that event, as previously mentioned, did not go particularly well, politicians decided to continue the tradition.
Sen. Rand Paul (R-Ky.) gave the tea party response in 2013, while future Republican presidential primary rival Sen. Marco Rubio's (R-Fla.) delivered the official GOP response.
The following year, Sen. Mike Lee (R-Utah) was tapped for the role of tea party respondent, but Paul decided he wanted another shot at it and issued his own response — yes, in addition to Lee's and Rep. Cathy McMorris Rodgers' (R-Wash.), the GOP's chosen speaker. Members of the former President Barack Obama's own party held what they called a "people's response" that year, adding to the snowballing effect.
There will be at least two speakers besides Kennedy on Tuesday: Rep. Maxine Waters (D-Calif.) and former Democratic presidential primary candidate Sen. Bernie Sanders (I-Vt.) will each issue live broadcast responses to Trump's speech. In addition, a number of activist and advocacy groups are also expected to offer their own reactions.
SOTU response speeches have launched exactly zero important political careers
Despite much media chatter about the State of the Union response being a launchpad for nascent political careers, not one politician in the modern era has successfully levied the event to attain higher elected office.
Since 2000, the list of State of the Union respondents has included four failed presidential candidates and two failed vice presidential candidates.
The three former presidents who have participated in a State of the Union response — Gerald Ford, George H.W. Bush and Bill Clinton — all did so in an era when the response was given by a group of politicians and was not shrouded in the kind of political pageantry recent responses have come to represent.
More often these days, the opposition party uses the event to debut one of their political rising stars, only to see that person's political celebrity plummet after the speech is given.
This was the case throughout the Obama administration, with then-Govs. Mitch Daniels (R-Ind.), Bob McDonnell (R-Va.) and Bobby Jindal (R-La.) — along with Rubio (R-Fla.) and Rep. Paul Ryan (R-Wis.) — all being touted as potential presidential or vice presidential candidates at the time.
Only Ryan went on to actually attain higher office when he was essentially forced by his Republican colleagues to become Speaker of the House, even after making clear he did not want the job.
Perhaps 2018 will be different, and Kennedy will see his political fortunes rise. But in an era when thousands of people respond to the president every day on Twitter, it's hard to imagine what kind of impact Kennedy's speech will really have.