Shangela Laquifa Wadley is out of the box and ready to snatch the crown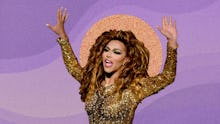 In the twelve seasons of RuPaul's Drag Race (nine regular, three All Stars), only one queen has appeared thrice: Shangela Laquifa Wadley. After being eliminated in seasons two and three, she's hoping that All Stars 3 will be her last, and that she'll finally clinch the title of America's Next Drag Superstar .
"If I were to throw some words out there [to describe myself, they'd be] 'loud, fun, loves a good party, loves to have a good time, loves to see other people have a good time, very motivated in life.' I want to win, I want to win for myself," Shangela said in an interview with Mic.
Between her work in X-Files, Community, Glee, Bones, 2 Broke Girls, her upcoming role in the Lady Gaga-led A Star Is Born remake and her successful drag queen management company, Say What Entertainment, Shangela has more than proven her staying power in the eight years since she last appeared on the RPDR main stage. But that doesn't mean she didn't come to win.
"At the end of the day, yes, it's a competition," she said. "We got to go into competition as competitors because we all want to win, but outside of RuPaul's Drag Race — and that's what I've learned in the drag community as well in those dressing rooms where you're getting painted next to the girls — you have to support each other. It's important when you're in there to try and be nice to each other. Lend a girl a brush. Don't lend her your eyeliner, you'll get pink eye. Help a sister out."
Below, Mic catches up with Shangela to talk all things Drag Race and more.