All the best dresses from Paris Couture Week — and who we'd love to see rock them on a red carpet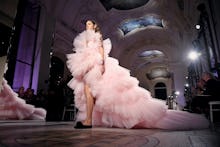 To see the best fashion has to offer, look no further than Paris Haute Couture Week. Held twice a year, it is where you see the best a designer can create, with haute couture — which translates literally to "high stitching." Every bit of every outfit is crafted by hand from high-quality, expensive and usually inventive fabrics.
Because of the quality and craftsmanship, Couture Week is often where you'll spot red carpet dresses before they've made it to an actual red carpet. Watching these shows, you can't help but immediately ponder who would look great in each gown.
We've done some of that thinking for you, matching up our favorite dresses of the week to a celebrity we know wear it well.
Let's start with Ralph & Russo, who's now a mainstay of any major red carpet event. We saw this jumpsuit and immediately thought of Tracee Ellis Ross.
This green dress also at Ralph & Russo is simply made for Jessica Chastain.
Rihanna made fashion history when she wore Guo Pei at the 2015 Met Gala. Who's to say she won't wear the designer again at this year's event?
Not to be dramatic, but we would murder to see Kristen Stewart in this Dior.
Also at Dior: This geometric number seemingly perfect for Emma Stone
How divine would Lupita Nyong'o look in this Givenchy?
And as for this Valentino? Paging Ruth Negga.
Zendaya could pull this Elie Saab off in a major way.
Over at Chanel, this black lace dress would look most lovely on Marion Cotillard.
This Alexandre Vauthier was practically made for Diane Kruger, in our opinion.
Sans that wig, this Jean Paul Gaultier gown would look particularly jaw-dropping on Thandie Newton.
Zuhair Murad's show was a bit problematic, yes. But we can't help but daydream about Charlize Theron in this dress.
Now for Schiaparelli. Where do we even start? This dress would slay on Tessa Thompson.
And this dress would be equally perfect on Naomie Harris.
This plum Giambattista Valli would be divine on Nicole Kidman.
We know we gave Rihanna that Guo Pei dress, but we doubt she'll be able to resist this fluffy, massive lime green dress from Giambattista Valli either.
So many dresses, so many options. Hollywood stylists, please don't let us down.