The number of congressional retirements grows as another Republican calls it quits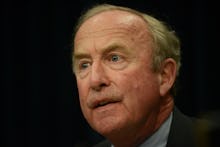 Rep. Rodney Frelinghuysen (R-N.J.) announced on Monday that he will not seek re-election, becoming the 32nd House Republican to decide not to run again for their House seat in 2018.
As chair of the House Appropriations Committee, Frelinghuysen is one of the most powerful members of the House, as he has control over the committee that handles the congressional purse strings.
His name is synonymous with New Jersey politics, as he's part of a political dynasty in the state that dates back to the American Revolution.
And his retirement leaves vacant a suburban New Jersey district that gives Democrats a strong pick up opportunity in November.
President Donald Trump barely carried the district in 2016, winning by a 1-point margin but taking less than 50% of the vote.
Polling suggested Frelinghuysen was in for a tough re-election battle. A Public Policy Polling survey from December found Frelinghuysen with just a 28% approval rating. And it found him down 9 points to a generic Democratic opponent.
Of course, generic candidates don't exist.
But Democrats tout Mikie Sherrill — who was running for the seat before Frelinghuysen's retirement — as a top recruit.
Sherrill, a Navy pilot and former federal prosecutor, is part of the Democratic Congressional Campaign Committee's Red to Blue program — which pinpoints top candidates.
Political handicappers have already moved the race to a toss-up after Frelinghuysen's announcement.