Hype List: What to check out this week, including '2 Dope Queens,' Justin Timberlake and more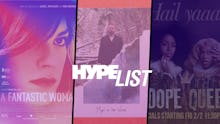 Welcome to the Hype List, a weekly recommendation series in which columnist Tirhakah Love highlights all of the pop culture happenings — movies, music, television, books and more — you need to know about.
TV: 2 Dope Queens
In response to the comedy world being dominated by white men, comedians Phoebe Robinson (I Love Dick, Search Party) and Jessica Williams (The Daily Show, The Incredible Jessica James) joined forces for the 2 Dope Queens podcast to highlight a bevy of female, racially diverse and LGBTQ comics around the country. A couple of years, one spinoff and a run at the top of the iTunes charts later, the women's wit and nuanced banter have earned them a four-episode series on HBO.
Filmed in front of a live audience at Brooklyn's Kings Theater and directed by none other than Tig Notaro, the hour-long episodes will feature candid, wide-ranging conversations with Jon Stewart, Sarah Jessica Parker, Uzo Aduba and Tituss Burgess. Expect the talks to touch on subjects like black nerdom and the hottest pizza spots in New York City. But the topics and celebrity guests are secondary — the real draw is the chemistry between Robinson and Williams. Bow down.
2 Dope Queens will premiere on HBO Friday at 11:30 p.m.
Movie: A Fantastic Woman
A Fantastic Woman, the latest film from Chilean director Sebastián Lelio, recently earned an Oscar nomination for best foreign language film, and it's easy to see why. Set in contemporary Chile, the movie follows Marina, a waitress and singer, whose boyfriend Orlando (30 years her senior) suddenly falls ill and dies. After his death, Marina has to deal not only with the loss and the grief, but also with a distrustful medical team and contempt from Orlando's family, who scorned him for loving a younger trans woman. A Fantastic Woman has been getting attention for quite some time now (it won the award for best screenplay at the Berlin Film Festival back in February 2017), and now U.S. audiences can finally take in this beautiful and sometimes terrifying story, just ahead of the Academy Awards. It offers a necessary look at a vulnerable population that deserves real recognition.
A Fantastic Woman will be released in theaters Friday.
Music: Man of the Woods by Justin Timberlake
OK, listen. Much will be made about this new Justin Timberlake album, wherein the singer "returns to his roots." (That's code for wearing a lot of plaid and taking photos in the great outdoors, to promote Southern-ish tunes that are still very much influenced by pop music.) And the critiques of Timberlake's end-of-days-obsessed single "Supplies" (and its silly music video) are very much appropriate; and, yes, it's true that he definitely needs help understanding the nuances of the #MeToo movement. But we're still holding out hope that this record will be, at the very least, listenable. Who knows, it might even surprise the skeptics and turn out to be pretty good.
No matter what, though, it's going to be the most talked-about album of the month, especially with J.T. returning to the Super Bowl halftime show on Sunday. And hasn't the guy had enough success that we grant him a few streams? Besides, when J.T. keeps things simple — like he does on the recently released "Say Something," featuring country star Chris Stapleton — things usually trend upward. Plus, with producing help from long-standing homies Pharrell and Timbaland, this record should have enough bops to keep us going. Was that convincing enough?
Man of the Woods will be released Friday via RCA.