FBI Deputy Director Andrew McCabe steps down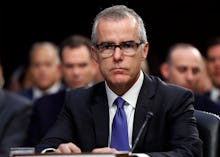 FBI Deputy Director Andrew McCabe stepped down from his role on Monday, ahead of his already-planned March retirement, NBC News reported.
McCabe is taking "terminal leave," meaning he will technically still be an FBI employee until March in order to receive his full retirement benefits, according to NBC's report.
McCabe served as acting FBI director after President Donald Trump fired James Comey in the spring.
After McCabe took the helm of the FBI, Trump reportedly summoned McCabe to the Oval Office and asked McCabe whom he voted for in the 2016 presidential election, according to the Washington Post. That incident is now part of special counsel Robert Mueller's investigation into whether Trump sought to obstruct justice in the Russia investigation, according to the Washington Post's report.
Trump denies that report, although he has publicly attacked McCabe multiple times.
Trump questioned McCabe's impartiality, given that McCabe's wife is a Democrat who ran for office and received campaign contributions from people close to Hillary Clinton.
And in December, Trump seemed to be goading McCabe into retirement.
"FBI Deputy Director Andrew McCabe is racing the clock to retire with full benefits," Trump tweeted on Dec. 23. "90 days to go?!!!"
Democrats say McCabe's retirement is a bad sign — charging Trump with running an unfair smear campaign on FBI officials like McCabe.