Walking on Broken Glass: The evolution of the 'Real Housewives' drink throw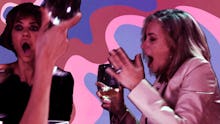 Flying wine and broken glass have become staples of the myriad Real Housewives franchises, with some of the series' signature moments featuring a wife throwing a drink in rage. Many of the earliest iterations of the Housewives drink throw appear to be genuine instances of partially suppressed anger, but as the franchise has aged, it's become clear the players involved have used the drink-throw trope to get attention, make a scene or to guarantee they get to hold an orange, peach or even be a computer-animated star in future seasons.
This change matches how the series as a whole has evolved. While the early years were a peek into the lives of what we thought were well-to-do women of a certain age and their families, the entire franchise has over time transformed into one that is a bit more self-aware. Most of these women aren't actresses, but they know they are on a television show where being at the center of a conflict can guarantee contracts and paychecks for years to come.
Let's take a look at how the drink throw has evolved over the years by assessing whether the outburst in each situation seems to be genuine anger or something a bit more calculated.
The Real Housewives of Orange County — Season 2, Episode 8 (March 6, 2007): Aqua Angels, Michelle vs. Taylor
In the early days of The Real Housewives of Orange County, when the housewives' children had much larger roles, we witnessed one of the most explosive fights of any franchise — and the first time the drink throw was deployed.
During one of the final episodes of season two, Tammy Knickerbocker's ex-husband hired the daughters of RHOC housewives Vicki Gunvalson, Lauri Peterson and Jeana Keough (plus his own daughter, Lindsey Knickerbocker) to star as his Aqua Air Angels in a photo shoot for his Aquair energy drink. The fight itself erupted between Michelle and Taylor, two girls who don't have any connection to the housewives. Lindsey explained Michelle and Taylor can't stand each other.
After Taylor pushed Michelle as she walked by and mumbled, "Get out of my way, bitch," Michelle punched Taylor and the girls went at it — a rare occasion where things truly got physical in this franchise. Lou Knickerbocker tried to separate the girls, and we saw an early glimpse of things to come when Taylor threw a full bottle of water at Michelle.
Genuine or calculated? Genuine. This is the first time the Housewives franchise had such an aggressive altercation. If we were playing by the rules of a veteran reality television show like the Real World, this sort of behavior would get you kicked off.
The Real Housewives of New Jersey — Season 1, Episode 6 (June 16, 2009): Teresa Giudice vs. Danielle Staub
We often forget that season one of The Real Housewives of New Jersey was a fairly quiet story about the tight-knit Manzo family and their issues with an outsider named Danielle Staub. Teresa Giudice, a friend of the Manzos, was the franchise's comic relief with her Jersey accent, unwell pronunciation of certain words (remember when she got her 'bubbies' done?) and her constant doting over her three young daughters.
That all changed when Teresa flew into a rage in what has become one of the most iconic scenes in RHONJ history. While Danielle was fighting with the Manzo sisters over allegations about her in the book Cop Without a Badge, Teresa chimed in to say some of the allegations had to be true. Danielle frustratingly repeated that she doesn't deny she was arrested or that she changed her name — and she snapped at Teresa, "Pay attention, puh-lease." Teresa did not appreciate being told to pay attention, so she began screaming at Danielle, flipped a table and, in doing so, technically threw several drinks. She also made history that day, and the Housewives franchise was never the same.
Genuine or calculated? Genuine. This was our first glimpse into the temper of Teresa Giudice, something that has become a staple of the franchise. This is pure and unedited Teresa.
The Real Housewives of Orange County — Season 6, Episode 13 (June 5, 2011): Tamra Barney vs. Jeana Keough
Tamra Barney and Jeana Keough gave us the first instance of a textbook drink throw: a housewife throwing a glass of wine in another housewife's face.
It all started when Tamra served Jeana a "cyst and deceased" (her words, not ours) because she heard Jeana was talking about her in the press. After Tamra threw a glass of red wine in Jeana's face, what followed was the most insane chain of events. It included Tamra's mom, Sandra Baker — a Shirley MacLaine doppelgänger — saying, "I thought this was a classy party" and Jeana's gay friend throwing a champagne flute at a driveway and yelling, "This is why you're getting a divorce."
It really is *Italian chef kiss* perfect.
Genuine or calculated? Tamra is a Housewives professional. After joining the show in its third season, she quickly learned what sort of drama made the show interesting, and as a result has stuck around for more than 10 years. There was definitely a bit of calculation that went into this entire scene, considering she showed up to a party with a letter from her attorney. But it's also one of the most fired-up instances we've seen of Tamra on the show, so we'll say it's more genuine than not.
The Real Housewives of Atlanta — Season 4, Episode 5 (Dec. 4, 2011): Shereé Whitfield vs. Bob Whitfield
This one is a little different because it involves not two or more 'wives, but a wife and her ex-husband. Shereé Whitfield was having a conversation about child support with her ex-husband, Bob Whitfield. The long and short of it was that Bob wasn't paying it, and Shereé was calling him out on it. At the end of a tense and heated conversation at a picnic table at the park, Shereé gets up and pours the contents of her water bottle on Bob before walking away without looking back.
Genuine or calculated? Genuine. This is a woman's frustration with her ex-husband — and also pure Shereé.
The Real Housewives of New Jersey — Season 5, Episode 4 (June 23, 2013): Teresa Giudice vs. Joe Gorga
From the time Teresa Giudice's brother, Joe Gorga, joined RHONJ in season three, tensions brewed between the siblings. Their issues with each other usually concerned Joe's wife, Melissa Gorga — who stirred up drama between the siblings by joining the show as an official housewife — and Teresa's husband, Joe Giudice.
When both Teresa and her brother were coincidentally exercising at the same gym (and while cameras were coincidentally filming her workout with a personal trainer), Teresa decided to approach her brother after not speaking to him for an extended period of time. As usual, the conversation devolved into an argument over what each sibling thought of the other's spouse. The argument came to a head when Teresa said she was done with her brother, threw the contents of her water bottle at Joe and stormed off.
Genuine or calculated? Genuine. As we've already seen, this is Teresa at her purest, a temperamental queen.
The Real Housewives of New York City — Season 6, Episodes 8 and 9 (April 29, 2014 and May 5, 2014): Ramona Singer vs. Kristen Taekman
From the moment Kristen Taekman stepped onto the scene during The Real Housewives of New York City's sixth season, veteran housewife Ramona Singer was not having it. She let this be known from the jump and ended up administering the Housewives drink throw on Kristen — more than once.
The first time came during a spa day organized by Sonja Morgan. The conversation turned to Sonja's 23-year-old boyfriend and ended when Kristen accused Ramona of being jealous. Ramona, alway the levelheaded one, threw a glass of wine in Kristen's face. She, in turn, was outraged when Kristen splashed her hair and ruined her perfect blowout.
The second time came during a canoe trip in the Berkshires (before the RHONY trips to the Berkshires were spent in Dorinda Medley's Holiday House of Horrors). Kristen overheard Ramona talking about her and decided to splash her again. Ramona, a professional housewife for many years, reacted by throwing her wine at Kristen's face — and then the entire glass. There's been much debate about whether the glass was actually glass or hard plastic, but Kristen did get a cut that produced blood.
Genuine or calculated: We're in muddy waters here. Ramona had been a housewife for years at this point, so there is a level of calculation whenever the cameras are on. That said, Ramona is not known to be levelheaded or able to control her temper, so this is as genuine as she gets.
The Real Housewives of New Jersey — Season 6, Episode 5 (Aug. 3, 2014): Teresa Aprea and Nicole Napolitano vs. Amber Marchese
Season six of RHONJ always felt like the oddest season in its history. Half the cast from the prior season were no longer main characters, Dina Manzo returned after leaving season two midway through and we were introduced to three ladies who only lasted one season: Amber Marchese and twins Nicole Napolitano and Teresa Aprea.
At a first-responders-themed party, where guests dressed up as firefighters and police, the three newbies of the franchise engaged in behavior that typically stirs up drama — talking about someone as if the person isn't right there, demanding an apology and instructing people to move a conversation so a whole crowd is not involved.
Things escalated quickly: Nicole snapped her fingers in Amber's face, Amber grabbed Nicole's arms and Nicole grabbed Amber's hair before others stepped in to break up the fight. Nicole and Teresa continued to engage with Amber, and unfortunately the camera work in this scene was shaky enough that it's hard to be certain which twin threw their drink at Amber. While it seems to be Teresa, does it even matter anymore? The twins and Amber are a distant memory in New Jersey lore.
Genuine or calculated? When a confrontation is getting physical, it's hard to claim the drink throw was calculated. The fight itself seems to be a mix of genuine and calculated. There were genuine emotions involved, but the conflict itself could be seen as a calculated way for the new housewives to have some sort of storyline.
The Real Housewives of Beverly Hills — Season 5, Episode 8 (Jan. 6, 2015): Brandi Glanville vs. Eileen Davidson
Over in Beverly Hills, Brandi Glanville welcomed newcomer Eileen Davidson with a splash of wine to the face. At a dinner with Lisa Rinna, Yolanda Hadid and Eileen, Brandi seemed to battle competing feelings of admiring Eileen as a renowned soap actress and disliking her for becoming romantically involved with Vince Van Patten while he was married to another woman after meeting him on set of Young and the Restless. For those unfamiliar with Brandi's own tabloid history that predates her joining Real Housewives, Brandi's husband, Eddie Cibrian, cheated on Brandi with country music singer LeAnn Rimes, whom he eventually married after divorcing Brandi.
Brandi pleaded with Eileen to turn on her soap actress villainess persona for the ladies at dinner, but Eileen was clearly not in the mood to perform on command like a circus seal. Even Brandi's offer of $40 was not enough for Eileen to become Ashley Abbott or Kristen DiMera. Brandi decided to turn the dinner into a real-life soap scene when she threatened to throw her drink on Eileen — and then made good on her promise when she threw wine from her glass into Eileen's face.
Genuine or calculated? There are several instances throughout Brandi's tenure on Real Housewives where she seemed to cause drama for drama's sake, and this calculated incident is no different. She wasn't particularly angry with Eileen for refusing to go into character and even warned that she was going to throw her drink. We can agree for certain that Eileen and Lisa's shocked reactions was genuine.
Watch What Happens Live with Andi Cohen— Season 12, Episode 3 (Jan. 6, 2015): Brandi Glanville vs. Jeff Lewis
On the very same night the RHOBH episode in which Brandi threw wine at Eileen aired, Brandi was a guest on Bravo's Watch What Happens Live with Andi Cohen. Fellow Bravo-lebrity Jeff Lewis (Flipping Out) was in the other guest chair that night, and Andy asked Brandi to run her fingers through Jeff's hair to prove he doesn't wear a toupee. Jeff quipped back, "Can I get an STD from that?"
Later on, a still-upset Brandi threw her wine into Jeff's face. Andy and Jeff were clearly stunned by Brandi's outburst, and Andy tried to have Brandi and Jeff work out their differences. Brandi turned her chair around, started crying and asked to "take five."
Genuine or calculated? Brandi Glanville learned how to lean into the villain character during her time on RHOBH, so everything about these drink throws was definitely calculated.
The Real Housewives of Beverly Hills — Season 5, Episode 16 (March 3, 2015): Lisa Rinna vs. Kim Richards
When Lisa Rinna joined RHOBH, her family's history with addiction colored her relationship with series veteran Kim Richards, whose storyline since the show's first season addressed Kim's own struggles with addiction. Kim did not welcome Lisa's concern for Kim's well-being, and everything came to a head when the entire cast had dinner together in Amsterdam.
Kim reasserted she had been sober for years and chastised Lisa for talking about her to everyone else. Lisa insisted anything she said was because she cared for Kim, who then deflected and said she was concerned about Rinna and "her situation at home." Eileen Davidson chimed in, which served to only rile Kim up some more. Kim took another shot at Lisa by telling her to have a piece of bread to make her calm down.
Things finally boiled over when Kim mumbled, "Let's talk about the husband." Lisa and Kim then began a shouting match, which escalated to Lisa almost grabbing Kim's neck, throwing her drink in Kim's face and smashing the wine glass on the table.
To this day, viewers still have no idea what Kim was referring to in her insinuations about Lisa's husband, Harry Hamlin, but it was certainly enough to provoke Lisa.
Genuine or calculated? Lisa Rinna is a soap opera actress, which could make one think this was all calculated for the cameras. That said, she is overly protective of her relationship with Hamlin and seemingly despises Kim, so this might have been the real Lisa.
The Real Housewives of Dallas — Season 1, Episode 4 (May 2, 2016): LeeAnne Locken vs. Brandi Redmond and Stephanie Hollman
Both drink throws on The Real Housewives of Dallas come from LeeAnne Locken, a true student of the Housewives arts. These drink throws are perhaps the most calculated in the franchise, but are iconic nonetheless.
Early in the first season of RHOD, LeeAnne and Brandi Redmond were feuding at a party that was also attended by a cast member of The A-List: Dallas. LeeAnne was not happy with Brandi's pretty spot-on impression of her, and Brandi told LeeAnne she needed to get help for her anger issues. LeeAnne invited Stephanie Hollman into the mix ("Come on in, Stephanie, I know you want to be here."), while LeeAnne and Brandi continued to fight. LeeAnne then walked away frustrated, spilled her drink on the floor and tossed a glass.
This set off a series of events that included LeeAnne getting into Stephanie's face against a brick wall, pushing a camera man and becoming the first housewife in history to get into an altercation with a trolley.
Genuine or calculated: LeeAnne Locken will look for any opportunity to throw a drink or break a glass, so we vote calculated. What wasn't calculated was her altercation with that trolley, which is one of the most underrated moments in Housewives history.
The Real Housewives of Dallas — Season 2, Episode 10 (Oct. 16, 2017): LeeAnne Locken vs. Cary Deuber
"I hope it smells like dog shit."
LeeAnne's second drink throw came in season two, during Brandi's winter wonderland party where all the drinks were served in plastic (that's important later). The women retreated to a table alone to rehash the great dildo incident of 2017. Kameron Westcott and Cary Deuber were staunchly anti-dildo, while Stephanie and Brandi represented the pro-dildo contingent.
Interestingly, the fight was about everyone except LeeAnne, but she got a great sex-positive line in before the glasses started to fly. "Gay men like dildo, straight men like dildo, all men like dildo," she said. "There's not a man on the planet that doesn't like a fucking dildo, OK?"
Cary was about to make up with Brandi and Stephanie when LeeAnne tried to interject. In response, Cary said she would never be friends with LeeAnne, who then got in her face and said, "Oh honey, we are never going to be friends." Cary commented on LeeAnne's breath and LeeAnne said, "I hope it smells like dog shit," before warning Cary to "be real careful" and throwing a glass on the floor. Kameron was the best she had been all season when she said, without skipping a beat, "That's why you have plastic."
Genuine or calculated: There's reason to believe this is calculated from the producer level on down, because why were they allowed to have glass all of a sudden? Also, LeeAnne purposefully throwing the glass behind her is a good indication she was just trying to make good television. And that she did.
The Real Housewives of New Jersey — Season 8, Episode 8 (Nov. 29, 2017): Teresa Giudice vs. Dolores Catania
Teresa became a slightly different Teresa following her return home from prison in season seven. While she still has a temper, she's learned to control it — at least to prevent any probation violations.
At a dinner with all the ladies, Teresa and Melissa Gorga were upset that Siggy Flicker and Dolores Catania were hanging out with Kim DePaola and walking in her Posche fashion show. Kim's latest antics included spreading rumors that Teresa was cheating on her husband, Joe Giudice, while he's away in prison. With a slip of the tongue at dinner, Dolores said "if it's true" before catching herself and saying "not that it's true." At that point it was too late, and Teresa took her glass, turned around and threw it at a wall in the restaurant.
At least it wasn't directed at another housewife? Baby steps.
Genuine or calculated: Teresa finding a wall at which to throw the glass indicated this was the most calculated she'd been with her drink throws. She almost had a genuine drink-throw moment at the Posche fashion show in the next episode, but she stopped herself from throwing that particular vodka pineapple because she knew Kim D. was watching.
The Real Housewives of New Jersey — Season 8, Episode 10 (Dec. 13, 2017): Danielle Staub vs. Siggy Flicker
While the RHONJ cast were dining out in Milan, several of the ladies attempted to hash out long-simmering issues with each other. Melissa didn't appreciate Dolores getting in her face at the Posche fashion show, Siggy couldn't stand anything Margaret Josephs said or did throughout season eight and Danielle couldn't help but weigh in with her opinion.
Siggy promptly shut Danielle down, shushing her and saying she was "disgusting" and "fucked up." As we are are reminded through a series of flashbacks with Danielle versus the Manzo sisters, if there's one thing that triggers Danielle, it's people being dismissive of her. Danielle flew into a rage, grabbing everything within reach on the dining table, hurling glasses without any specific target and causing the whole cast to get kicked out of the restaurant. As they made their way out, Margaret apologized to the room of diners: "We should go back to the United States. I'm so, so sorry."
Genuine or calculated: This one is hard. Danielle hasn't been on our TV for years, but a lot of what she did during season two (after which she took a Housewives hiatus) was calculated. On the other hand, she does genuinely have a temper that rivals the size of Teresa, so this could go either way.
The Housewives drink throw has come a long way since the franchise first debuted more than a decade ago. It'll be interesting to see if it's here to stay and will evolve into the next decade — or if, like the reunion walk-off, Andy Cohen will demand it to stop. We'll be watching.
'Come Thru Queen' is a weekly podcast hosted by Dan Calabrese and Brendan Davis. They talk about 'Real Housewives,' 'RuPaul's Drag Race' other reality shows and pop culture.