Mary Mahoney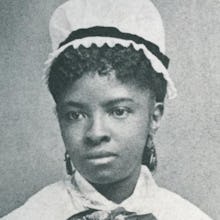 This article is a part of the Black Monuments Project, which imagines a world that celebrates Black heroes in 54 U.S. states and territories.
The first black licensed nurse in United States history was the daughter of freed slaves from North Carolina. Mary Mahoney, born in Boston in 1845, more than a decade before the U.S. Civil War began, was a teenager when she decided to pursue a career in medicine.
Mahoney started working at the New England Hospital for Women and Children, according to the National Women's History Museum. She was a janitor, a cook and a washer woman over 15 years. Sometimes she also served as a nurse's aide, a role that permitted her to glean bits of medical experience that would serve her well in the future.
The hospital had a nursing school affiliated with it, and in 1878, at age 33, Mahoney signed up for a 16-month intensive training course. Only four of the 42 women who enrolled in the program completed it the following year, the museum said. Mahoney was one of them.
The field of public nursing at the time was rife with discrimination, so Mahoney went into private practice, serving mostly wealthy white clients on the East Coast. She spent decades doing so, until finally, in 1911, she was briefly granted an administrative role. She served as the director of the Howard Orphanage Asylum for black children in Kings Park, Long Island, in New York, until the following year, according to the museum.
Mahoney lived until age 80; she died in 1926 after living with breast cancer for three years. Her mark on the nursing profession stands as a testament to her resilience and pioneering spirit. This is why the Black Monuments Project honors her today.