BeBe Zahara Benet talks 'Drag Race' All Stars 3, her biggest competition, thirsty fans and more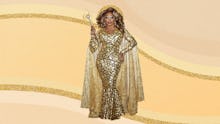 It's another day, another slay for Bebe Zahara Benet.
On the debut season of RuPaul's Drag Race in 2009, in what's now colloquially known as the "lost season," BeBe Zahara Benet snatched the crown. And while Drag Race helped her to launch her career — she's released four singles to date — the $20,000 cash prize, the lowest in series history, did not.
But now, she's back, this time competing again on the current season of All Stars 3 as the show's mystery-laden 10th queen, which was revealed during the season premiere.
"I know what you're thinking," RuPaul told the nine other girls upon BeBe entering the work room, "She done already done had herses. But 2009 was a very different time. BeBe had to deal with that season one filter, remember that?" And so it was, another shot at gold for the Cameroon-born drag superstar.
Mic chatted with Benet — nearly nine years to the day since she made her television debut — about her grand return, her biggest competition and how social media has reshaped drag.
Mic: Did you have any reservations when the producers first phoned you about a potential comeback?
BeBe Zahara Benet: I had to be called back a couple of times because I knew it was going to be very polarizing to be able to go into the show and be part of a cast of nonwinners. First things first, I know a lot of the viewers have not gone back to see where this whole beautiful experience that is this show started from. And I know that I do represent the season one girls, and I thought it would be a great way to reintroduce myself to this new generation of drag race lovers. And I also bring a new point of view in terms of drag, in terms of my aesthetic, how I carry myself, my music, my fashion, my social work, everything, and I felt like this would be a great platform to show that and to show how I've evolved. And most importantly, it doesn't mean that because you are a crowned queen that you can't learn new tricks.
What was the most difficult part of keeping your return a secret for over three months?
I knew that once I got revealed in the show it would be a moment. I knew that. A crowned queen coming back again, that already is a moment. And with many people not even knowing who I am, like the newer generation, that would also be a moment. So I really did feel like I would have my own moment. And who ever wants to be with a whole bunch of girls, everyone trying to find a moment? You know, let me get my own moment, and I'm totally OK with it.
What was it like watching the show explode in the years since you were on the show?
It was very, very exciting. People always ask me, "Did you think this was going to grow as big as it did?" and I say, "Of course." Once we shot season one, I knew that it was going to be huge. Just the whole idea of drag artistry is fascinating, number one. Number two, you combine that with heart and us being human beings and going through different experiences that people can identify with. You put all of this together and there is no reason why it wouldn't be as big as it is now.
All Stars has a very different elimination process from in-season. How did that affect your game play?
It did not not affect my game play. I went into this season just as I did going into season one. I am really focusing on me and making sure I give it my ultimate, and making sure that my body of work represents who I am as a brand. I never allowed myself to be distracted. I just went in there to do exactly as BeBe does. [Laughs] And what BeBe will do is put her best foot out there.
This was your first time being judged by Michelle Visage, who joined the judges panel in season three. What were your first impressions?
I've always loved Michelle judging. I wish Michelle had always judged me because I feel like she has a different point of view. She might not be a drag entertainer herself, but she's been part of that culture, part of that world, and when she would give you certain critiques, she does it out love — although sometimes people think that it's bitchy or it's coming out being shady — I think it's coming from a very good place. It doesn't mean we'll always agree, but I can respect the critiques.
Who did you grow closest to among the nine other queens?
Going into the show, I knew Shangela, so when I saw her it was great to be able to bond with her again. People like Trixie, and Ben and Kennedy and all the other entertainers, I had not had the opportunity to work with them before so it was great getting to spend some time with them and getting to know what they're all about, and I'm sure they'd say the same thing. I'd hope.
Who do you view as your biggest competitor?
I think I'm my biggest competition. It comes down to what I'm able to do, how I present myself and how I attack my challenges. I have to compete with that because it's me, it's my work that I get to put out there, and I can't be worried about what another person is doing.
Do you have a favorite season of Drag Race?
Season one. It's not because I am from season one. It's because it was very authentic in my humble opinion. There were no blueprints so whether you hated us or loved us, we were just who we were, and we did our very best. We had no problem sharing our personal stories and our experiences as human beings and taking down that fourth wall and being vulnerable. I feel like that's what paved the way for future seasons and made it as popular as it is today. That's why the meet and greets get so long and extensive because everybody wants to say, "I hear you, I see you, I went through the same thing, I experienced the same thing, you inspired me." It's because of the heart. And that heart came all the way from season one. It didn't start in season two. [Laughs]
What is your relationship like with social media and how do you think social media has shaped present-day drag?
If you look at the season one girls and all the girls after season one, you see a drastic change in numbers because when we started, people were not giving into social media like that. Now things have evolved. Everything now is about social media. People follow us to be inspired, to learn about us — because they want to be invested in our journey. And that is the closest way someone from the U.K. or South Africa might be able to get to us. And that's why it's important that that platform is being used. It's a voice without even hearing us speak. So I am doing my part to be more engaging because I know people have been very thirsty for me.
The show obviously has a large LGBTQ fanbase, but it's also resonated, as recently noted in the New York Times, with women. Why do you think that is?
First of all, because it's really great entertainment. I know there's people that are like, "Oh, I'm not into that," and then they watch the very first episode because someone makes them watch and they're hooked. We bring so much really great entertainment, the fantasy, the fascination, the larger than life personalities, us being very funny and having fun and being competitive — some even like a little cattiness. It's a combination of all of that that creates really good television. It's also the heart. Talk about even where I come from, my country, Africa, there are a lot of people that do not understand drag because drag is not really there. I came to America before I knew it was even called drag. We get to watch the show now and hear our stories, and when they hear our stories they get to identify with us as human beings. It transcends labels.
Any advice you'd offer up to future queens?
The first I ask is, "Why?" You have to answer your "why" first because your "why" is going to set the foundation of how you move forward. Why are you doing this? What are the reasons? You have to answer that and that will guide you as you move forward, and let you know how much time and efforts and energy and emotion and finances and everything to put into your art. Also, know it's a competition that comes with so many other elements. Are you really prepared? Do you have your foundation together? And when I talk of foundation, I'm not talking of makeup. [Laughs] A lot of people get into these shows and are so desperate for stardom and fame, and it catches up with them because their foundation is not solid, it's not strong. You really want to make sure you have all of that together before going through this adventure because it will kick your butt. It really will.