GOP votes to release classified memo as Trump declines to impose Russian sanctions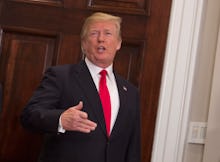 News surrounding the Russia investigation came at a dizzying pace Monday, beginning with FBI Deputy Director Andrew McCabe's retirement and ending with the Trump administration announcing it won't impose the Russian sanctions Congress passed in 2017 by an overwhelming margin.
Between those two major developments, Republicans on the House Intelligence Committee decided they will release a classified memo prepared by Rep. Devin Nunes (R-Calif.), which reportedly questions the method Deputy Attorney General Rod Rosenstein used to obtain a Foreign Intelligence Surveillance Act (FISA) warrant on former Trump campaign aide Carter Page.
This has all led to even more questions about President Donald Trump's relationship with Russia as well as charges that congressional Republicans are trying to protect Trump from special counsel Robert Mueller's investigation, which is circling closer to Trump himself.
"Congress voted 517-5 to impose sanctions on Russia. The president decides to ignore that law. Folks, that is a constitutional crisis. There should be outrage in every corner of this country," Sen. Claire McCaskill (D-Mo.) tweeted Tuesday morning.
The Trump administration said it will not impose new sanctions on Russians because, "the legislation is, in fact, serving as a deterrent," according to a statement from the State Department provided to CNN.
Rep. Adam Schiff (D-Calif.), the ranking member of the House Intelligence Committee, also expressed outrage after Republicans on his committee voted to release Nunes' memo, but not an opposing memo written by Democrats. Trump now has five days to decide whether to declassify the intelligence used in Nunes' memo, so that it can be released to the public.
"Committee Republicans JUST voted to declassify their spin 'memo' and prohibit release of the Democratic response in what they claimed was 'the interests of full transparency,'" Schiff tweeted Monday night. "It was transparent alright – transparently cynical and destructive."
Schiff added that Republicans on the House Intelligence Committee also opened an investigation of the FBI and Department of Justice — without consulting Democrats on the committee — moves, he says, that all amount to a "deliberate attempt" to protect Trump from the investigation.
Republicans have circled the wagons around Trump, after Mueller's probe cracked the president's inner circle and moves in toward Trump.
Some Republicans have expressed dismay and anger at how GOP lawmakers are trying to discredit federal law enforcement agencies in an effort to protect Trump from the investigation.
Republican consultant Rick Wilson told Mic last week that Nunes' memo is a "made-up, horseshit pseudo-scandal."