The 'Black Panther' premiere just put every other red carpet in Hollywood to shame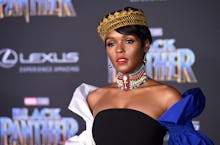 The attendees of the Black Panther world premiere in Los Angeles last night did not come to mess around.
Attendees like Janelle Monáe came dressed as literal royalty, while men like Chadwick Boseman and Michael B. Jordan effectively showed Hollywood that men's red carpet fashion doesn't have to be the least bit boring. We think this red carpet event is now unparalleled in its fashion greatness.
What was the dress code for all attendees? "Royal attire." And yeah, it showed.
Outfits in ultra-bright colors, with jewel accents, African patterns, fringe and metallics and plenty of other genuinely exciting fashion details, raised the bar for red carpet fashion.
Let's run through some of the best looks of the night:
Lupita Nyong'o in Versace
Close your eyes, think of the words "glorious queen" and there is this picture.
There really may be no one as daring, innovative and fearless when it comes to red carpet fashion than Monáe. That crown, with those jewels, with those Victorian sleeves, worked.
Donald Glover
Letitia Wright
Daniel Kaluuya in a kanzu
David Oyelowo
Yara Shahidi in Etro
Janeshia Adams-Ginyard in Tamara Cobus
Ryan Michelle Bathe and Sterling K. Brown
Sydelle Noel