Here's how Democrats will put the #MeToo movement on display at the State of the Union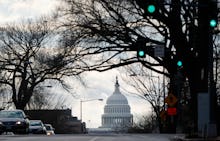 Welcome to Mic's daily read on Donald Trump's America. Want to receive this as a daily email in your inbox? Subscribe here.
Tuesday's dispatch: #MeToo and SOTU
Rose Gunter never expected Oprah Winfrey to highlight the story of her "favorite aunt." She didn't expected the gang rape of Recy Taylor in 1994 to draw national attention. And she never expected a U.S. congresswoman would ask her to attend President Donald Trump's first State of the Union.
But if the #MeToo movement is about anything, it's about firsts: acknowledging sexual misconduct, sharing those experiences with loved ones and speaking out publicly.
"I didn't know this was going to be happening to me," Gunter said in an interview. "When I was asked [to attend the State of the Union], I said yes, I would come because it was to help other women who were out there who have been going through something."
Trump's recap of his first year, and preview of the next phase of his presidency, on Tuesday night is likely to set off days of debate and analysis. But dozens of members of Congress hope they can use the State of the Union, in the tradition of recent Golden Globes and Grammys speeches, to continue to highlight the #MeToo movement and shine a light on sexual misconduct.
Many women and men in Congress are planning to wear black to the event to show solidarity with survivors of sexual abuse and harassment. Several members of Congress are bringing sexual assault victims, advocates and relatives of survivors to the speech.
Gunter is the guest of Rep. Bonnie Watson Coleman (D-N.J.). Coleman will lead members of the Congressional Black Caucus in wearing red pins to honor Taylor, who was raped by six white men in Alabama 24 years ago. Despite confessing, her rapists were found not guilty. The state apologized to Taylor in 2011; Winfrey highlighted Taylor's story earlier in January after she died in December at 97 years old.
"When we think of the feminist movement, we think of white women," Watson Coleman said in an interview. "We knew there were women having the same experiences but not the same outcome or attention. This was a way that we would highlight [Taylor] — but [that] name really stands for all the women who've been marginalized in society, who have experienced this type of assault or harassment but haven't been recognized, haven't had justice done for them."
The #MeToo movement has already swept into Capitol Hill. Six members of Congress have faced public allegations of sexual harassment or misconduct; four have resigned — two Republicans and two Democrats. And Trump himself has faced allegations of sexual misconduct from nearly 20 women.
Congress is considering legislation, introduced by Rep. Jackie Speier (D-Calif.) in November, that would make it easier for victims to confidentially report sexual misconduct, increase training and force lawmakers who used taxpayer dollars to settle misconduct claims to repay the government. House Speaker Paul Ryan (R-Wis.) ordered mandatory sexual harassment training for all House members in November.
Rep. Annie Kuster (D-N.H.) is bringing Chessy Prout, a survivor of a sexual assault in high school who speaks publicly about her experience, to the State of the Union. Kuster said Chessy's courage convinced the congresswoman to speak out about her experience being sexually harassed 40 years ago as an intern on Capitol Hill. Kuster, the founder of the Bipartisan Task Force to End Sexual Violence, introduced bipartisan legislation on Monday that would improve how federal agencies collect data on sexual misconduct across sectors of the economy.
"I always say to my colleagues the heroin doesn't choose [Republicans] and [Democrats]," Kuster said in an interview. "I think we'll see similar growth in the interest in ending sexual violence in the workplace and in our society.
"I'd like to surprise the American people that we can be part of the solution on this issue."
Erin Walton, executive director of Rape Victim Advocates, said her Chicago rape crisis center struggles to fund programs to educate students across K-12 education about sexual misconduct. Set to be a guest of Rep. Mike Quigley (D-Ill.) on Tuesday night, Walton says the rape and sexual assault that drove 2,007 survivors to her center in 2017 will continue without funding for prevention.
"That's putting a Band-Aid on the issue," Walton said in an interview. "We have to figure out how to stop sexual assault happening in the first place ... and starting with prevention education."
Quigley agreed, adding that men — who outnumber women 4-to-1 in Congress — must stand with the #MeToo movement.
"Men have to find a role in this process," Quigley said in an interview. "Men have to stand up. We need to change the system but we need to reform the culture."
Today's question: What message does it send that members of Congress are highlighting sexual misconduct at Trump's speech?
Please email us at trumpsamerica@mic.com with your thoughts.
Tuesday in Trump's America:
State of the Union: Trump is expected to pitch Congress on his new immigration plan — a little more than a month before the Deferred Action for Childhood Arrivals program expires — and tout strong economic numbers after his first year in office.
Per usual with such speeches, Trump is also expected to strike a bipartisan, presidential tone, a diction he has often avoided over the past year.
First lady Melania Trump will be at Trump's address, following silence from her after the Wall Street Journal reported the president paid a porn performer $130,000 before the 2016 presidential election to remain quiet about a previous sexual encounter.
Response: There will be five responses from Democrats to Trump's address. Pick your response.
The memo: Republicans on the House Intelligence Committee voted Monday night to release a three-page memo that will undercut the FBI and special counsel Robert Mueller's investigation. Democrats decried the move as politically motivated and said the memo presented a picture of the FBI that lacks context. Rep. Jackie Speier told Mic the GOP move was "jaw-dropping."
Trump now has five days to decide whether to make the memo public. The Department of Justice said releasing the memo would be "extraordinarily reckless."
FBI: Andrew McCabe, the deputy FBI director, stepped down Monday. Trump had pressured McCabe over his relationship with former FBI Director James Comey and his wife's ties to Hillary Clinton allies. Trump has also publicly attacked McCabe.
Abortion ban: The Senate failed to pass a House-passed bill that would have banned abortions after 20 weeks.
Russia sanctions: The Trump administration said Monday it will not implement or announce new sanctions on the country that meddled in the 2016 election — a move that angered lawmakers in both parties.
Koch-vision: The conservative billionaires and their network of political groups — which plan to spend up to $400 million in elections this election cycle — believe 80 House seats are competitive in 2018, a staggeringly large estimate from a GOP group.
Oops: Some tickets to Trump's speech invited guests to attend the "State of the Uniom." The tickets with a typo were reprinted.
Retirements: Rep. Rodney Frelinghuysen (R-N.J.) is the latest Republican to call it quits ahead of the 2018 midterm elections. A powerful committee chairman, Frelinghuysen was set to be a top target for Democrats in the fall.
More than two dozen members of Congress, primarily Republicans, are planning to quit this fall. Here's why.
Reminder: The government runs out of funding a week from Thursday. And Congress is no closer to the immigration deal necessary to keep Washington running. Senate Majority Leader Mitch McConnell (R-Ky.) sparred with House Minority Leader Nancy Pelosi (D-Calif.) over her "irresponsible racial invective," which he said is harming the chances of an immigration deal.
DNC shake-up: The CEO of the Democratic National Committee announced her imminent resignation after holding the job for less than a year. The move was reportedly personal, but comes after a year of the DNC lagging behind the Republican National Committee in fundraising.
Today's MicBite:
Mic goes inside the '80s-inspired art movement of the alt-right. Click or tap below to see for yourself.