Amazon or Walmart? This store is cheapest for almost all of your purchases, a new study finds.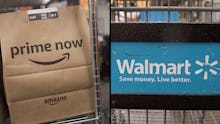 In the longstanding war between Amazon and Walmart to become America's best-known retailer, it seems fairly clear that Amazon is winning the headline war: From the reality-show-like search for Amazon's new headquarters to the news that the e-commerce giant will join JP Morgan and Berkshire Hathaway in an effort to revamp health care for their employees, Amazon excels at grabbing the spotlight.
But when it comes to the war to win over consumers with the very best prices? That story is a bit more nuanced.
Since Walmart purchased Amazon rival Jet.com in 2016, the Arkansas-based retailer has been trying to craft a formidable competitor to Amazon Prime — which now counts more than 90 million subscribers, according to September data. Those efforts are paying off, with Walmart's online revenue in the U.S. rising 50% in the third quarter of 2017. (Walmart also brings in about three times more annual revenue than Amazon overall.)
Lower prices may well be part of the draw. Personal finance site LendEDU reviewed more than 50 items with each retailer and found that, all in, Walmart's shopping basket was about 10% cheaper. Only when it comes to food and beverages, LendEDU found, does Amazon appear to consistently offer better deals. And, to be fair, Walmart often offers a lower, "in store" price on its website if you're willing to pick the item up yourself. Neither of the tallies includes shipping.
Now, a similar study, conducted using pricing data from spring 2017 by Cheapism, found that Amazon was usually cheaper. A separate study from the research firm Profitero — which looked at summer 2017 prices — also found that Amazon was about 11% cheaper on average.
But the time window is important because prices at both e-retailers are constantly changing. A spokesperson for LendEDU told Mic in an email that prices for its study were more recent: pulled between Jan. 24 and Jan. 26.
Some of the price differences noted at LendEDU actually exceeded 100%, particularly for home goods. For example, a 50-pack of Solo cups were listed on Walmart for $3.88, less than half of Amazon's $9 price tag. Meanwhile, a Dyson V6 cordless vacuum cleaner would cost you an additional $180 at Amazon ($355) than at Walmart ($175).
Take advantage by being savvier consumer
By expanding into health care, Amazon is continuing a long-expected push into a territory where Walmart has been building its presence for the better part of a decade: Walmart is currently one of the top sellers of prescription drugs in the country, according to the Washington Post, and is one of 15 players who have captured roughly 75% of the market.
For the time being, expect to see even more examples of giant retailers stepping on one another's toes.
As it explores an ambitious health care effort, Amazon will have to fend off more traditional retail partnerships between American chains and Amazon's Chinese rivals, Alibaba and JD, both of which may be able to help companies like Walmart and Kroger mimic Amazon's logistical expertise — a point money manager Josh Brown made on Twitter.
The best way to take advantage of the retail wars? Be a more rigorous consumer.
If you're currently planning your Super Bowl party, for example, it makes sense to purchase your party supplies — cups, plates, etc. — from Walmart, while buying your actual food and drinks at Amazon, which LendEDU found was the only category where Amazon was consistently cheaper.
Of course, you also don't want the allure of discounts to prompt you into buying stuff you don't need, one of the dangers of habits like extreme couponing. Similarly, it's probably not worth your time (or gas money) to stop at three different stores on your way home in the name of meager savings. Your time, after all, is valuable too. Researching promotions and deals using coupon sites can help you figure out which savings are actually worth chasing down.
Of course, you also need to factor in the cost of actually getting your items home. Amazon Prime members pay $99 annually to get free two-day shipping. (Non-Prime members only get free shipping on orders of $25 or higher.) To get in-store prices at Walmart, you'll need to calculate the cost of gas to and from the store to make sure you're really saving money.
But the fact that more retailers are undercutting each other in more consumer categories means there's going to be a bigger payoff to shopping around. Perhaps that's one reason we're seeing more and more services like Honey, Earny and Dosh that automate parts of the bargain-hunting process for you — for example, by scanning your receipts for items that dropped in price after you bought them and applying for refunds.
Sign up for the Payoff — your weekly crash course on how to live your best financial life.