Fashion is outraged over a racial slur, but can it reckon with its racist behavior past and present?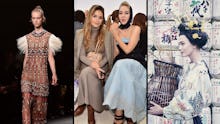 At Paris Couture Week, the most talked-about incident wasn't some gorgeous new gown or fabulous hat coming down a runway, as is often the case, but two women in fashion who were comfortable enough to share a racial slur on social media.
Last week, designer Ulyana Sergeenko, who has been worn by the likes of Rihanna and Kim Kardashian West, sent friend and street style star-turned-entrepreneur Miroslava Duma a note that read: "To my niggas in paris." Duma shared the note on her Instagram Story, and from there the blowback spread immediately.
Sergeenko and Duma initially released apologies that tried to rationalize their behavior, noting that the term "niggas in Paris" was a nod to the Jay-Z and Kanye West song and a term of endearment they use for one another. That didn't go over great, with Sergeenko immediately deleting her apology and writing another one days later.
What really sets this incident apart isn't the blatant racism and ignorance coming from these fashion figures, but the reaction and sense that consequences will come. Largely because of social media, people were able to share their outrage, with major figures in fashion like Naomi Campbell even commenting on Sergeenko's first Instagram apology with "This better not be real."
"It's so overdue," Tim Blanks, fashion critic and editor-at-large at Business of Fashion, said of the outrage on the podcast Inside Fashion. "I think accountability and a sense of consequence is what has been missing from just so much."
Now we have to wonder if this latest instance of outrage over racism in fashion is a watershed moment, and if it signals a change in how we all are going to react to racist behavior in the industry going forward. If that's the case, will this reckoning take into account fashion's long history of racist behavior and incidents, both casual and blatant?
Just five years ago, after noticing a lack of black models back in 2013, models Naomi Campbell and Iman came together for a campaign to rally fashion councils in New York, London, Milan and Paris to cast more black models in their shows. "I'm saying the act of not choosing models of color is racist," Campbell said in an interview with Channel 4 at the time. "We're not calling them racist, we're saying the act is racist."
Starting in 2015, young models including Nykhor Paul, Leomie Anderson and Philomena Kwao started to talk openly on social media about the disrespect they were feeling amongst hairstylists and makeup artists who came ill-equipped to deal with black hair and skin at shows and photoshoots. In 2017, both Anderson and model Jourdan Dunn tweeted about racist encounters during London Fashion Week. During Paris Fashion Week days later, model Londone Myers uploaded a video to Instagram showing her being ignored backstage at a show.
But beyond just models speaking out, there have been major editorials that have been shot, edited, approved and gone to print in major fashion publications with undeniable racist undertones. White model Karlie Kloss posed in yellowface, and dressed up as a Geisha, in Vogue just last year.
At fashion shows meant to celebrate Africa, like Valentino's Spring/Summer 2016 show, fewer than 10 black models walked in a show with 91 looks. In 2016, Dolce & Gabbana created what they called "slave sandals."
Weeks ago, H&M had to pull — and apologize for — an image on its website that had a black child model posing in a "Coolest monkey in the jungle" hoodie. An Italian beauty brand just had to apologize for a black nail polish color named "thick as a nigga."
Designers that are treasured by the industry, like Coco Chanel, mingled with Nazis. In 2011, John Galliano was fined 6,000 Euros for shouting racist and antisemitic rants at a bar in 2010 and 2011. Three years later he was named the creative designer of Maison Margiela. In November 2017, Karl Lagerfeld, the creative director at Chanel, said of Muslim immigrants: "You cannot kill millions of Jews and then take in millions of their worst enemies afterwards, even if there are decades [between the two events]."
All of these things, some just a blip in the fashion press cycle when they occurred, all point to a basic unwillingness among many major fashion players, designers and brands to respect people of color, and particularly black people and their culture. Whether it's wanting to celebrate Africa at a show but not cast black models, or turn Jews against Muslims, there is an ignorance that is pervasive.
This ordeal with Sergeenko and Duma was not surprising. What will be surprising — and telling — is if our outrage can affect Sergeenko and Duma redeeming themselves, or at the very least trying to.
"They're being hit where it hurts: where they make their money," Blanks said on Inside Fashion. "And that, you would imagine, is probably the only way that some people are going to realize that they cannot say and do what they've been saying and doing and getting away with it for years and years."
Since men like Lagerfeld are still getting tons of press and acclaim, maybe it's up to consumers to fight back, because the industry has had a long history of letting incidents like this pass.