Roxane Gay, who authored a 'Black Panther' comic, says she wasn't invited to the film's premiere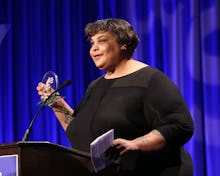 Writer Roxane Gay, who authored the Marvel comic Black Panther: World of Wakanda, a spin-off series from Marvel's Black Panther comics, tweeted on Monday night that she wasn't invited to the Los Angeles premiere of the new Black Panther film. "My feelings are real hurt that I didn't get an invite to the Black Panther premiere," Gay wrote on Twitter, adding "I'm still thrilled about the movie and can't wait to see it."
Gay's World of Wakanda series, which ran from November 2016 to April 2017, explores other characters, many of them women, who inhabit the fictional African nation of Wakanda — Black Panther's home country and the setting for the new film.
Gay was specifically tapped to help write the companion comic by author Ta-Nehisi Coates, the writer behind the successful 2016 relaunch of the Black Panther comics. "When we started thinking about writers, [Gay] popped up right away," he told the New York Times in 2016.
Actor Chadwick Boseman, who stars as Black Panther in the new film, told Vanity Fair in a 2016 interview that Coates' Black Panther series was incredibly influential in making the film. He added that director and co-writer Ryan Coogler had read Coates' comic series, focusing especially on the women characters — whose roles were later expanded in Gay's spin-off.
"Not to say that it will follow the exact plot," Boseman told Vanity Fair, "but you definitely can tell that Ryan is reading Ta-Nehisi, and I'm reading Ta-Nehisi, and the producers are reading Ta-Nehisi. If we didn't read what Ta-Nehisi is writing, we would be foolish."
Coates, Gay and poet Yona Harvey all collaborated on the World of Wakana series, which was critically acclaimed but was canceled after just six issues had been published. Marvel's decision to cancel the series drew criticism — especially since it came only months after one of Marvel's vice presidents had attributed poor comic sales to "diversity."
"What we heard was that people didn't want any more diversity ... I don't know that that's really true, but that's what we saw in sales," Marvel's David Gabriel said in an interview in March 2017.
Gay has said she left Marvel on good terms. In an interview with Time after World of Wakanda's cancellation, she said she thought Marvel could have done more to reach out to non-comics audiences to promote her series, but that she had an "an overall great experience working with Marvel" and hoped to write for them again.
Marvel has not yet responded to a request for comment about Gay's apparent exclusion from the star-studded Black Panther premiere on Monday night, and has not yet confirmed if any of the comics' authors were invited to the event. Several tweets from attendees who were there seem to indicate Coates was at least in attendance.
When asked on Twitter if any of the other writers involved in the various Black Panther series has been invited to the premiere, Gay responded, "I actually don't know. I sure hope they were there."