Pink, Halsey and other female artists aren't happy about Neil Portnow telling women to "step up"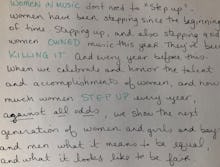 What do Pink, Halsey and Sheryl Crow have in common? On Monday, all three women publicly rebuked Neil Portnow, president of the Recording Academy, after he suggested female artists should "step up" if they want more screen time and recognition from the Grammy Awards.
Portnow's comments drew swift backlash, particularly in light of already existing criticisms about the show being too male-centric. (Alessia Cara was the only solo woman to win a Grammy, and Lorde was the only album of the year nominee not given time to perform during the telecast. She was also the only female nominee for album of the year.)
In a Monday tweet, Pink wrote that female artists "don't need to 'step up,'" because "women have been stepping since the beginning of time."
She continued:
Stepping up, and also stepping aside, women OWNED music this year. They've been KILLING IT. And every year before this. When we celebrate and honor the talent and accomplishments of women, and how much women STEP UP every year, against all odds, we show the next generation of women and girls and boys and men what it means to be equal, and what it looks like to be fair.
Sheryl Crow also responded via Twitter, writing that Portnow's suggestion was "a strangely insensitive thing to say, particularly at this juncture of women standing up for themselves ... demanding equality and fairness.
"The lack of female representation is not about there not being enough quality coming from women in music," she wrote, "it's about the fact that the opportunities for women to have a presence have been chopped in half."
And in her own series of tweets addressing the issue, singer Halsey looked beyond the insensitivity of Portnow's "absurd" comments and said the lack of female wins during Sunday night's ceremony was symptomatic of an industry-wide problem.
The real irony of the comments made by Portnow — who, on Monday, issued an apology claiming his remarks "do not convey my beliefs and the point I was trying to make" — is that men in the industry, not women, are in a position to "step up" and address this issue. As New York Times reporter Jacob Bernstein noted recently, 13 of the 18 people on the Grammy board of directors are men, including its chairman, vice chair and CEO. In its 50-plus-year history, the Recording Academy has never had a woman at its helm.
And, if recently released viewership numbers are anything to go by, the Grammys' current ratio of "two U2 performances for every Lady Gaga ballad" isn't really doing it for anyone. According to Deadline, the 2018 ceremony hit an all-time ratings low, with a precipitous 24% decline in viewership among adults 18-49 from 2017.
Audiences, especially young ones, care about diversity. Making the Grammy Awards more inclusive wouldn't be a favor to performers as much as it would serve the show's audience and potentially give the broadcast a much-needed ratings boost.