Trump has been warring with federal law enforcement for months. Is he starting to win?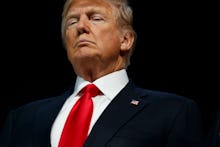 President Donald Trump just got what he's been gunning for.
For months, the president been publicly battering Andrew McCabe, casting him as a villain of the so-called "deep state" who epitomized the FBI's bias against his administration. Now, after pressure from FBI Director Christopher Wray, McCabe has been ousted from his role as the bureau's deputy director.
It's not clear what — if any — role the president played in McCabe's ouster. The White House said he wasn't involved, and Wray suggested in a memo that the move was tied to an upcoming inspector general report about the bureau's handling of both Hillary Clinton's email scandal and the investigation into alleged collusion between the Trump campaign and Russia.
But McCabe's resignation comes as Trump and the Republicans are turning up the heat on the FBI. Members of the party have suggested the bureau is part of a conspiracy to delegitimize Trump's presidency, fueling concern that the president and his allies could erode public trust in federal law enforcement.
Trump has laid the groundwork for this narrative since his election. From the onset of his presidency, he has publicly pushed back against the federal probe into his campaign and Russian interference in the election, repeatedly describing the suggestion of collusion with the Russians as a hoax concocted by Democrats to justify their surprise loss in the 2016 election.
That criticism grew stronger and more pointed over the course of Trump's first year in office as the Russia investigation ramped up.
Following his dismissal of James Comey in May, Trump suggested the ex-FBI director had hurt the "spirit and prestige" of the bureau, and even suggested he'd committed "crimes" in the way he led the Clinton investigation and for what Trump characterized as "leaks."
Trump then began attacking McCabe, who became the FBI's acting director after Comey's firing, suggesting his wife's political career had compromised McCabe's ability to execute the Clinton and Russia investigations impartially.
Trump also turned his ire toward the Department of Justice, lambasting Attorney General Jeff Sessions for not replacing McCabe and for recusing himself from matters related to the Russia investigation over his undisclosed contacts with then-Russian ambassador Sergey Kislyak.
"Jeff Sessions takes the job, gets into the job, recuses himself, which frankly I think is very unfair to the president," Trump said in a July interview with the New York Times. "How do you take a job and then recuse yourself? If he would have recused himself before the job, I would have said, 'Thanks, Jeff, but I'm not going to take you.' It's extremely unfair — and that's a mild word — to the president."
The president's attacks on the FBI grew even more heated as special counsel Robert Mueller brought down those close to Trump, including Michael Flynn, a close ally who resigned from his role as national security adviser in February over his contacts with Russia.
"[The FBI's] reputation is in Tatters — worst in History!" Trump tweeted in December, days after Flynn pleaded guilty to lying to the FBI. "But fear not, we will bring it back to greatness."
As this drumbeat of attacks has continued, Republicans are increasingly joining Trump in slamming the FBI, employing what former federal prosecutor Patrick Cotter described in an interview with Mic as "mob lawyer" tactics to try to undermine Mueller's investigation.
Republicans have latched onto reported anti-Trump text messages between FBI lawyer Lisa Page and FBI agent Peter Strzok, whom Mueller removed from his team over the summer, as evidence of bias at the bureau. The GOP is now preparing to release a memo prepared by Rep. Devin Nunes (R-Calif.), which reportedly details supposed wrongdoing at the FBI and DOJ — particularly what Nunes and Republicans claim is an abuse of the Foreign Intelligence Surveillance Act.
This seems to indicate Trump's attacks on the FBI and DOJ may be working. Republicans, who once positioned themselves as the law and order party, now appear to have a growing distrust of federal law enforcement. A Gallup poll released Jan. 2 found that just 49% of Republican voters approve of the job the FBI is doing — down from 62% in 2014. Further, a Rasmussen poll released Wednesday found that 62% of Republicans actually want an outside prosecutor to investigate the bureau.
Meanwhile, Democrats have stepped up their calls to protect Mueller. The special counsel was reportedly on the president's chopping block over the summer, but was spared after White House counsel Don McGahn threatened to resign if Mueller was fired.
"We're in troubling times here," Sen. Cory Booker (D-N.J.) said on CNN on Friday. "Congress, I believe, needs to be taking very pragmatic steps ... to make sure we have the right constitutional protections in place should this president ever cross a line."
But Trump may not need to fire Mueller to undermine the probe. He has pushed for the release of Nunes' memo, which he reportedly hasn't read yet — and may even be planning to ask Sessions to prosecute Mueller and his team, according to an NBC News report.