A former GOP congressman is trying to use the attacks on the FBI to discredit his own conviction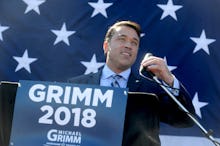 Former Rep. Michael Grimm (R-N.Y.), who spent seven months in federal prison after pleading guilty in 2014 to tax fraud, said he was a victim of the same "corrupt team of players" at the FBI that he says are "sabotaging President Trump with the Russiagate conspiracy," the New York Daily News reported.
Grimm — who is running to win back the Staten Island-based House seat he resigned from after his guilty plea — told the newspaper that he blames former FBI Director James Comey and former Attorney General Loretta Lynch for "leveraging a civil business violation to drive me out of office in 2014."
Grimm's comments come as Republicans have accused the FBI of impropriety in their investigation of the Trump campaign's possible Russia ties. Republicans have accused the FBI of having a "secret society" that was trying to oust Trump — an accusation that appears to stem from a joke between two agents. One Republican lawmaker even called for a "purge" of members of the so-called "deep state" from the federal law enforcement agency.
Grimm, however, praised the House Republicans who voted to release a classified memo about a warrant used to surveil former Trump campaign aide Carter Page. He also cheered FBI Deputy Director Andrew McCabe's retirement, telling the Daily News that those events are "much-needed steps toward reining in the politicization of our justice system."
Democrats and some Republicans have warned that the GOP attacks on the FBI and Department of Justice could prevent the crucial law enforcement agencies from doing their jobs in the future.
Rep. Adam Schiff (D-Calif.), the top Democrat on the House Intelligence Committee, told Axios that the GOP's "reckless hyperbole is just so destructive of our democracy."