With Hatch Mama, skin care for pregnant people gets some much-needed attention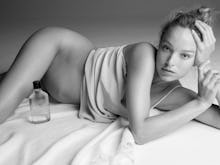 There are pregnancy side effects that are widely known, like the weight gain, the enlarged breasts, the constant feeling of having to pee. Then there are the side effects that are lesser-known, like the dried nipples from breastfeeding, hair loss, leg swelling and an itchy belly.
With a new body and skin care line called Hatch Mama, the company Hatch, which has specialized in trendy maternity clothes and sharing pertinent information for pregnant people for seven years now, is trying to open up these conversations and normalize the idea that pregnant people, before and after giving birth, might need some additional help when it comes to their skin and hair.
"A lot of people were getting their best friends' recommendations on belly oil, and asking, 'What does your doctor say about what to do when your nipples are chafed?" Ariane Goldman, the founder of Hatch, said in an interview. "No brand out there was centralizing the conversation of: This is what you need when you're having these problems while pregnant."
Hatch Mama debuted in January with eight products: a belly oil and mask to reduce the appearance of stretch marks and relieve itch; a hair oil to hydrate hair and strengthen it so it doesn't fall out after giving birth; rollerballs filled with relaxing oils to reduce stress, wake you up or prevent nausea; an anti-inflammatory cream to help reduce swelling in the legs and feet and a lip and nipple balm to help moisturize both of those parts of your body.
"If you're prepared for these things to happen, it's easier," Goldman said. "I don't think the conversation outside of the pregnancy community was loud. Definitely companies have tried to take a stab at this, but it's such a narrow corner of the market. What was missing was that the thought was being done for you. With Hatch Mama it's all natural [ingredients]. We've done the thinking for you."
It's good for you, and looks good on your vanity, with the products having a kind of Glossier vibe, with light pink being the primary color of their packaging.
"When you're finding products from your friends, it doesn't feel like a holistic process," Goldman said. "It's like, 'Is anyone talking to me?' Hatch Mama is going to help you get through this stage by stage, trimester by trimester."
The goal for Goldman has been not just impacting the skin care market, but focusing on giving more to this community of pregnant people who have been largely ignored by the beauty industry thus far.
"If you're not really listening, you can throw a product out, but your customer knows if you're taking this seriously," Goldman said. "This is all born from the fact that there's no one consistently living in this place. A place where they know that we're still here and we're only engaged in this space."