GOP congressman wants all State of the Union guests to prove their citizenship or face arrest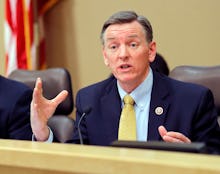 Rep. Paul Gosar (R-Ariz.) on Tuesday said he wants any undocumented immigrants in attendance at President Donald Trump's State of the Union to be arrested.
"Of all the places where the rule of law needs to be enforced, it should be in the hallowed halls of Congress. Any illegal aliens attempting to go through security, under any pretext of invitation or otherwise, should be arrested and deported," Gosar tweeted.
Gosar's demand that the event's guests prove their citizenship comes amid a fierce immigration debate in Congress. Democrats and some Republicans are hoping to come to a bipartisan agreement to pass legislation shielding Deferred Action for Childhood Arrivals recipients — or undocumented immigrants who were brought to the U.S. as minors — from deportation.
Gosar is one of the staunchest anti-immigrant members of the House and is opposed to extending the DACA program.
Currently, roughly 800,000 people are protected by DACA, which gives undocumented immigrants the right to legally live and work in the U.S. However, Trump announced in September that DACA will come to an end March 5, potentially putting these immigrants at risk of deportation if Congress cannot pass a bill codifying the program into law.
However, there are many more than 800,000 undocumented immigrants who were brought to the U.S. as minors. Undocumented immigrants brought to the U.S. as minors are known as Dreamers, as they would be protected by the DREAM Act, legislation that Congress has been debating for years.
A handful of Democratic members of Congress have said they will be bringing Dreamers to the State of the Union to draw attention to their plight; more than 24 will be in attendance, according to NBC News.