How 'One Day at a Time' brilliantly captures the effect of Trump's America on one Latinx family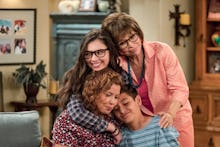 One of television's more salient challenges since the 2016 presidential election has been addressing the new reality that is Donald Trump's America. While shows like Black-ish and American Horror Story: Cult have tackled the current administration head-on, others have opted to avoid the subject altogether or are still treading lightly.
In her November analysis of TV's first year under a Trump presidency for The Outline, Ann-Derrick Gaillot suggested that "the Great Show of the Trump era, despite this year's attempts, might still be ahead of us." I'm inclined to agree with Gaillot here, because 2017 felt too soon after the election to expect a show to hit all the right notes. Given the unprecedented nature of the current political climate, it would be a lot to ask of any series — new or returning — to fully comprehend the implications of this unique moment in history so quickly.
But Netflix's reimagining of the classic Norman Lear sitcom One Day at a Time, now in its second season, comes pretty darned close to being worthy of the title of "the Great Show of the Trump Era." As viewers discovered in its first season, ODAAT — like its predecessor, which aired from 1975 to 1984 — thrives on topical subjects and relevant social issues. It features episodes about sexism in the workplace, immigration, mental health and, most notably, a teenage girl's coming-out story. (This is at least partially due to the fact that 95-year-old TV legend Lear is an executive producer of the Netflix reboot.)
(Editor's note: Spoilers for the second season of Netflix's One Day at a Time ahead.)
Although ODAAT debuted in January 2017, co-creator and showrunner Mike Royce told Mic at the time that the presidential election didn't influence the show very much. But now that the Cuban-American Alvarez family at the heart of the series lives in an America where Trump is actually the commander-in-chief, the show has no choice but to face this reality.
That means teenager Alex (Marcel Ruiz) is now the subject of racial slurs like "Build the wall," and the revelation that fiercely proud Cubana Lydia (the delightfully scene-stealing Rita Moreno) never became an American citizen triggers real fears of deportation. Yet ODAAT strikes just the right balance of realism and entertainment so many other shows struggle with. It refuses to tiptoe around touchy subjects, but the approach doesn't ever feel preachy, like the "Very Special Episodes" of sitcom yore.
This is owing to the strength of ODAAT's Royce and fellow co-creator and showrunner Gloria Calderón Kellett, who recently spoke to Mic about the series' second season in a telephone interview. In their eyes, the narrative of the Alvarez clan did have to be adjusted for season two, but the shift happened organically.
"The show is reflecting the world," Royce said, "and obviously the world changed. We don't set out to do political stories, we set out to tell stories about this family. But this family was very affected by some of the things that happened in the election."
Even though it's not the showrunners' intention to make ODAAT a "political" series, they knew they had to "deal with the new normal that we're experiencing," according to Kellett, when it came to season two. One of their more ambitious storyboard ideas actually featured Hillary Clinton — "She's friends with Norman [Lear]," Kellett said — comforting LGBTQ activist Elena (Isabella Gomez) in a dream sequence. The guest appearance ultimately didn't pan out, but Trump's election still hangs over this season.
Kellett and Royce cowrote the season premiere, "The Turn," and they waste no time confronting the "new racism" (as Kellett referred to it) that has swept the country following Trump's win. While older characters like Lydia and even Generation-X mom Penelope (Justina Machado, who is killing it this season) have experienced plenty of racism themselves, it's still a shock to the system when 13-year-old Alex says he was told to "go back to Mexico." It doesn't matter that he's Cuban or that he was born in America; all the bullies hear and see is a brown boy speaking Spanish.
"People are going to judge you and maybe try to kick you out of the country literally based on what you look like," Royce said of the country's "new normal."
"The colorism is something that I've experienced in my own life, because I have very fair skin," Kellett, who is Cuban-American, said. "But my brother is a beautiful caramel, so I walk the world thinking, 'The world's not racist! Everyone's so nice to me!' And five minutes with my brother, and shit goes down and I get furious on his behalf. It's incredible the things that happen just by virtue of the fact that he's darker."
The Alvarez family also finds itself at the center of the heated immigration debate in season two, when Lydia — and, to a lesser degree, wealthy Canadian landlord Schneider (Todd Grinnell) — are forced to confront their non-citizenship status. The season's fourth episode, "Roots," initially starts out as a commentary on the importance of voting, with Elena expressing dismay over the fact that Lydia doesn't participate in elections. ("And now we have that monster in the White House!" she scolds, in one of the show's few direct criticisms of the president.)
But once the truth comes out that Lydia is only a green-card holder, Elena's anger gives way to something much more serious: the fear that Trump's anti-immigration policies could result in deportation for her legal resident grandmother.
Lydia's explanation of her status is simple: "Cuba is home," and becoming an American citizen would require renouncing her Cuban citizenship.
Elena's trepidation overshadows Lydia's golden memories of her homeland, because this isn't the same America from 60 years ago. In season one, Elena watched helplessly as her best friend's undocumented immigrant parents were deported, and the grief stayed with her: "What if one day they decide to send all non-citizens back to where they came from?" she says to Lydia, her voice breaking.
According to Kellett, both sides of the Lydia/Elena argument came from close sources. "My aunt has never become a citizen," Kellett said. "There's something for her about Cuba being her home of origin, that she has difficulty giving up. And my cousins got really nervous when all this deportation was happening. Like, 'Oh, my God, are they going to send Mom back to Cuba, where she hasn't been for 60-plus years?' Is this a thing that green-card holders are worried about? Getting kicked out of the country?"
By the end of season two, Lydia and Schneider become American citizens. The juxtaposition of these divergent characters is striking, which was the showrunners' intention. "We talked a lot about the ease of becoming a citizen and how it's easier for some people than it is for others," Kellett said.
One comes from a group of people for whom citizenship is not always a seamless process. The other checks all the proverbial boxes that seem to please the president: He's white, he's got money and he speaks English. But considering they were unable to vote in U.S. elections while legal residents, ODAAT suggests the time for inaction on a civics level has passed.
In the aforementioned Outline article, series like All in the Family and The Jeffersons are referenced as "shows that came closest to capturing the spirit" of their respective time periods. Considering both were sitcoms created by Norman Lear, it shouldn't come as a surprise that they're now potential blueprints for how TV can address our current climate. And with Kellett and Royce maintaining Lear's topical legacy for a whole new generation, One Day at a Time feels like required viewing in the Trump era.