Trump in State of the Union speech: "Americans are dreamers too"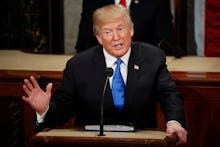 In his first ever State of the Union address on Tuesday night, President Donald Trump brought up the issue of young undocumented individuals who've lived in the United States since they were children by effectively telling them that they're nothing special.
"My duty, and the sacred duty of every elected official in this chamber, is to defend Americans — to protect their safety, their families, their communities, and their right to the American dream," Trump said in his speech. "Because Americans are dreamers too."
Young undocumented people protected under the Deferred Action for Childhood Arrivals program are colloquially referred to as "Dreamers," a reference to the Dream Act legislation that would potentially offer them permanent protection.
Trump's claim that "Americans are dreamers too" seems to imply that Trump does not consider so-called "Dreamers" to be Americans. Many observers of the speech immediately picked up on the subtext of those remarks — including former Ku Klux Klan leader and Trump supporter David Duke, who tweeted "Thank you President Trump. Americans are 'Dreamers' too."
Others, however, were quick to call out the president for separating young undocumented people from the category of those he considers to be "Americans."
Trump's comment about "Dreamers" was not his only controversial immigration line of the night. At another point in his speech, he claimed that his immigration proposal "protects the nuclear family" by ending the policy he divisively refers to as "chain migration." 
"Under the current broken system, a single immigrant can bring in virtually unlimited numbers of distant relatives," Trump said. "Under our plan, we focus on the immediate family by limiting sponsorships to spouses and minor children."
The current American immigration system does not enable individuals to sponsor an "unlimited numbers of distant relatives." The process for sponsoring the immigration of nonimmediate family members is arduous, and difficult to take advantage of.
Conservatives have long decried attacks on the nuclear family through their opposition to same-sex marriage and nontraditional family arrangements. Trump, however, appeared to be suggesting that unifying families with relatives like grandparents, aunts and uncles somehow threatens the traditional conception of the nuclear family — an argument few social conservatives would likely endorse.