Trump's first State of the Union is unlikely to change the state of play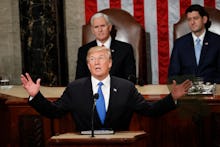 The White House tried to sell President Donald Trump's first State of the Union address on Tuesday night as an optimistic speech filled with bipartisan undertones as he begins his second year in office.
However, aside from a few calls for bipartisan cooperation, Trump's speech was filled with anti-immigrant rhetoric, as well as dark stories of crime and death. And that's unlikely to change the state of his presidency, which is bogged down by sagging approval ratings and a cloud of suspicion stemming from special counsel Robert Mueller's investigation into his administration's potential ties to Russia.
"I don't see it as at all a game changer," Stu Rothenberg, a nonpartisan political analyst said in an interview. "He took a shot at the 'Dreamers,' he took a shot at the NFL players, it was a mishmash of phrases and images that he hoped would unite Americans or touch in the unity in the country and then followed by other comments that I thought were very partisan and very Trump."
The darkest moment of Trump's speech came when discussing immigration — a contentious issue that Congress can't seem to come to an agreement on.
The president laid out the four immigration principles he believes Congress must address in order for him to sign a bill to protect undocumented immigrants brought to the U.S. as minors, known colloquially as "Dreamers," a reference to the Dream Act legislation that would potentially offer them permanent protection. Those principles include cutting legal immigration, prioritizing skilled immigrants and ending family migration — which Trump mischaracterized in his speech.
Trump said family immigration — or "chain migration" as he calls it — allows immigrants to "bring in virtually unlimited numbers of distant relatives." That's simply untrue, as certain family members are excluded, and immigrants must wait years to sponsor family members to come to the U.S.
"My duty, and the sacred duty of every elected official in this chamber, is to defend Americans — to protect their safety, their families, their communities and their right to the American dream. Because Americans are dreamers too," Trump said in one of the darkest lines of the speech.
Rep. Joe Kennedy III (D-Mass.), who delivered the official Democratic response, took aim at the division he said Trump has sowed in his first year in office.
"It would be easy to dismiss the past year as chaos, partisanship, politics," Kennedy said in his address. "But it's far bigger than that. This administration isn't just targeting the laws that protect us – they are targeting the very idea that we are all worthy of protection."
Polling shows that State of the Union addresses rarely change public opinion of a president. And given that Trump's speech was filled with red meat for his base, not only on immigration reform but on the Second Amendment, religious liberty and tax reform, that trend is likely to hold for Trump's first State of the Union address.