Rep. Joe Kennedy channels outrage against Trump in State of the Union response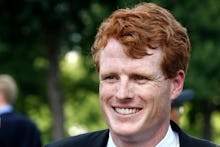 Rep. Joe Kennedy III (D-Mass.) may have on Tuesday night become the first politician in a long time to come out of a State of the Union response not facing harsh scrutiny or backlash.
In his official Democratic response speech, which emphasized the outrage and protest over President Donald Trump's policies, Kennedy channelled the anger and energy of the president's many opponents, while also highlighting their accomplishments.
"You proudly marched together last weekend – thousands deep — in the streets of Las Vegas and Philadelphia and Nashville," Kennedy told the crowd, making reference to the thousands of demonstrators who took to the streets to protest the Trump administration on the anniversary of the Women's March.
"You sat high atop your mom's shoulders and held a sign that read: 'Build a wall and my generation will tear it down,'" he said.
Kennedy delivered a portion of his speech in Spanish, telling young undocumented people, "We will fight for you and we will not walk away."
Kennedy's response was aided by the fact that, unlike many of his recent predecessors, he chose to speak in front of a crowd, which allowed him to evoke the enthusiasm seen at a president's State of the Union speech.
Kennedy also made specific references to some of the progressive social movements that have erupted in response to injustice over the past few years.
"You bravely say, 'me too,'" he said, paying homage to the growing #MeToo movement against sexual harassment and abuse. "You steadfastly say, 'Black lives matter.'"
But overall, Kennedy focused his energy on Trump and the historic resistance that has grown out of his presidency.
"Bullies may lend a punch, they may leave a mark," Kennedy said. "But they have never, not once, in the history of our United States, managed to match the strength and spirit of the people united in defense of their future."