Fact-checking Trump's first State of the Union address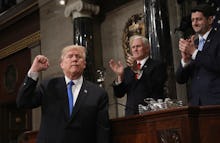 President Donald Trump played the hits in his first State of the Union address Tuesday evening, calling for Americans to "seek out common ground," while massaging or blatantly disregarding facts to fit his agenda.
Here's a look at how Trump's divisive call for unity measured up with hard facts:
The biggest tax cuts in history? Not so fast.
Trump on Tuesday touted the biggest accomplishment of his tumultuous first year in office: the GOP tax plan that he signed into law in December.
"We enacted the biggest tax cuts and reforms in American history," Trump said on Tuesday night. "Our massive tax cuts provide tremendous relief for the middle class and small businesses."
It's a familiar line from Trump — but repeating it over and over again doesn't make it any truer.
Trump's tax cuts, like the crowd size at his inauguration, are not the biggest in history. In fact, according to Politifact, his bill is just the fourth biggest to be enacted since 1940, if you adjust for inflation; measured by percentage of gross domestic product, it is only the seventh largest. An analysis by the Committee for a Responsible Federal Budget found that the bill would come in as only the eighth biggest tax cut since 1918.
What was really the biggest tax cut in history? That distinction would go to the one passed by former president Ronald Reagan, in 1981, which was the largest as a percent of the GDP.
And this lie about the historic size of the recent tax bill was just one of several false or misleading statements the president made on the economy Tuesday night.
Trump took credit for the 2.4 million jobs that have been created since his election in 2016 — even though only 2 million were created in 2017, which is lower than the 2.2 million created in Obama's final year in office. He also took the opportunity to brag that black unemployment is at a historic low, leaving out the fact that that figure has been steadily declining for years, and almost certainly doesn't have anything to do with Trump himself.
What's the deal with "beautiful, clean coal"?
"We have ended the war on American energy — and we have ended the war on beautiful, clean coal," Trump said. "We are now an exporter of energy to the world."
Let's start with the odd "beautiful, clean coal" line, because it's something he's talked about before. Trump rolled back regulations on coal plants in March, saying the United States will have "really clean coal." But the term itself is misleading: Coal remains the dirtiest energy source available.
While it is true that Trump has targeted Obama-era restrictions on the coal industry, the implication that his predecessor's policies were responsible for the declining coal industry is false.
Declining demand and increased automation have led to fewer jobs in the coal industry. Even Trump's own Department of Energy said in August that the availability of cheap natural gas was the primary driver of the coal industry's woes. And Trump's bluster doesn't seem to be bringing the industry back.
Finally, Trump's suggestion that the U.S. had not been exporting energy to the rest of the world is incorrect. The U.S. has long been an energy exporter — it's just that, as CNN notes, it imports more.
Dark falsehoods about immigrants
Trump repeated a number of false or misleading statements about immigrants and immigration policy on Tuesday.
Once again, Trump proposed allowing a pathway to citizenship for 1.8 million undocumented immigrants brought to the U.S. by their parents as children — if they "meet education and work requirements, and show good moral character." But he also played on fears that immigration programs created "loopholes" that "criminals and terrorists" exploit to wreak havoc on U.S. citizens.
"For decades, open borders have allowed drugs and gangs to pour into our most vulnerable communities. They have allowed millions of low-wage workers to compete for jobs and wages against the poorest Americans," Trump said. "Most tragically, they have caused the loss of many innocent lives."
Trump again called for the construction of a wall on the U.S.-Mexico border — an idea that played well to his base during the 2016 campaign but would be costly and ineffective.
He also repeated his demand that lawmakers put an end to the visa lottery program and to so-called "chain migration," which he said made two recent terrorist attacks in New York City possible.
Sayfullo Saipov — who was identified as the man who drove a truck onto a bike path in Lower Manhattan in October, killing eight and injuring several others — allegedly entered the U.S. on the diversity visa. Akayed Ullah — who injured several when he detonated an explosive in the New York City subway in December — was in the U.S. on a family visa.
But both attackers were radicalized well after they entered the U.S., according to CNN, not before, so it is unclear how the incidents relate to the immigration programs the president wants to kill.
Trump also claimed Tuesday that the visa lottery "randomly hands out green cards without any regard for skill, merit or the safety of our people." This is false. There are, in fact, work and education requirements outlined by the Department of State. Further, visa lottery recipients are vetted before entering the U.S. — contradicting the president's claim that immigrants are admitted "without any regard for ... the safety of our people."
He also bashed family visas, decrying what he describes as "chain migration."
"Under the current broken system, a single immigrant can bring in virtually unlimited numbers of distant relatives," Trump said. "Under our plan, we focus on the immediate family by limiting sponsorships to spouses and minor children. This vital reform is necessary, not just for our economy, but for our security and our future."
Again, this characterization is misleading.
First, the number of relatives that an immigrant can bring in is not "virtually unlimited." As the New York Times explained on Friday, green card holders can sponsor spouses and unmarried children, and U.S. citizens can petition to bring in parents, siblings and married children. But there are caps on family-based immigration, and almost 4 million people were on a waiting list as of Nov. 1.
Second, it's not clear how restricting so-called chain migration "protects the nuclear family" and is essential for "our security and our future," as Trump said Tuesday. As the American Immigration Council noted in 2013, families help immigrants integrate into U.S. culture and benefit communities.