2018 Winter Olympics: Team USA bobsledder Elana Meyers Taylor is America's hardest-working athlete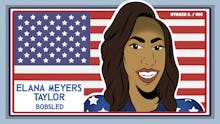 During the Winter Olympics, Mic is tracking a group of athletes who are smashing records and breaking boundaries. To follow the coverage, visit our Olympics hub.
Name: Elana Meyers Taylor
Elana Meyers Taylor has unfinished business to take care of at the Pyeongchang Olympics: Complete her medal collection by capturing the one that's been out of her reach in her Olympic career.
Gold.
She came heartbreakingly close at the 2014 Sochi Games — one-tenth of a second behind the gold medal winners, to be exact. Meyers Taylor, in her Olympic driving debut, and teammate and push athlete Lauryn Williams had the lead through each run, but a crash in the middle of the final run meant the duo lost valuable time — and the lead — and got the silver. At the 2010 Vancouver Olympics, Meyers Taylor earned the bronze as a push athlete.
She's now an Olympic veteran and the favorite for gold in South Korea. The coach who taught her the sport about a decade ago, former U.S. women's bobsled coach Bill Taveras, told GW Magazine that Meyers Taylor is "the best push athlete and driver that we've ever had."
And to think her bobsledding career almost never even happened.
Meyers Taylor is an accomplished athlete. She played shortstop at George Washington University after receiving scholarship offers in softball, basketball, soccer and track and field, and she then played professional softball, all with her sights set on representing the United States at the Olympics. She tried out twice and didn't make the U.S. national team; in 2005, the International Olympic Committee voted to drop softball from the Olympics. So in 2007, Meyers Taylor retired from softball, and with encouragement from her parents, took up bobsledding.
"We felt like, 'This is something you can do right now and don't have to learn over a period of time,'" her father, Eddie Meyers, told GW Magazine. "'You're quick, you're strong — you have all those attributes today. There's nothing really that you need to do different than what you're already doing to be a good pusher in bobsled.'"
In her rookie season, Meyers Taylor made Team USA's World Cup team as a push athlete, the position most bobsledders start with. She won a World Cup medal the following season. She moved to the driver position about three years later, despite it generally taking most a lot longer to make that change from brake to pilot. Meyers Taylor is lauded for her speed, strength and skill — and an athlete people can look up to as she breaks gender barriers.
In December 2014, Meyers Taylor was the first American woman to compete in a four-person bobsled World Cup competition against and alongside men; two months later, she became the first U.S. female bobsled driver to win a world championship.
Bobsledding has not only taken Meyers Taylor around the world for competitions, but it has also introduced her to her husband, bobsledder Nic Taylor. At the 2013 World Championships, he proposed to her at the podium; they were married in 2014. Taylor is an alternate for one of Team USA's men's bobsled teams, and thus will be in South Korea with the team and with Meyers Taylor.
As the defending world champion, Meyers Taylor carries some momentum to her third Olympics. But the road to Pyeongchang has had some hardships. She had to overcome the effects of a concussion — her fourth — from a 2015 bobsled crash that she said "changed me as a person." As a result of the latest concussion, Meyers Taylor announced she's pledging her brain to a concussion organization for further research, as "women are largely unrepresented in brain donations," she told USA Today.
Meyers Taylor will be the driver as she goes for gold with push athlete Lauren Gibbs, 33, who's making her Olympic debut. They won't race until near the end of the games, Feb. 20 and Feb. 21.
When to watch Elana Meyers Taylor compete:
Women's run 1, Feb. 20 at 6:50 a.m. Eastern