2018 Winter Olympics: Maame Biney is the first African-American woman on the USA speedskating team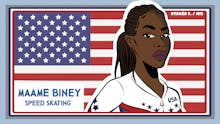 During the Winter Olympics, Mic is tracking a group of athletes who are smashing records and breaking boundaries. To follow the coverage, visit our Olympics hub.
Name: Maame Biney
You might recognize Maame Biney from her viral epic fall.
It was the result of a historic moment and celebration: At the Olympic trials in December, Biney swept the 500-meter races to qualify for the U.S. Olympic speedskating team, becoming the first African-American woman to do so.
She fell during her celebration, but went down laughing like a champion. If you didn't recognize her name before, surely you will once the games start — Biney is already being tapped as the breakout star of the Olympics.
On top of that, she just turned 18 on Jan. 28.
Biney's journey to Pyeongchang spans the globe. She was born in Ghana, where her mother and brother still live. When she was 5, she went to visit her father in Maryland and ended up living with him because she didn't want to leave; they later relocated to Virginia, where she took up skating. In July, Biney moved to Salt Lake City in order to train with the national team.
Biney originally took up figure skating when she was young, but she was so fast she switched to speedskating. She's "known for quickness off the starting line, which is most essential in her signature race, the 500-meter," according to her Team USA bio. She's also known for her youthful energy and boundless enthusiasm, and she's almost never not laughing.
In her quest for an Olympic medal as the youngest woman on the U.S. short track team, Biney is hoping to follow in the footsteps of her idol Shani Davis, a two-time Olympic gold medalist speedskater who was the first black Olympian to win a gold medal in an individual sport at the 2006 games. Biney also credits Gabby Douglas, Simone Biles and Serena Williams as idols.
Biney has other goals, too, like maybe getting a cell phone and her driver's license, finishing high school and becoming a chemical engineer. Both on and off the ice, her potential is endless.
Biney came in second in her heat Saturday night and advanced to the quarterfinals. China's Fan Kexin came in first. The top two skaters in each heat advance.
In the quarterfinals, Biney came in fourth place after a start in which she was boxed out and couldn't recover in time. She was visibly disappointed and upset afterward.
Biney didn't medal in the 1,500-meter race either, but she did meet Saturday Night Live star Leslie Jones afterward. Jones, who is a commentator for NBC during the Winter Games, shared words of encouragement for the 18-year-old for the next Olympics on Twitter.
Feb. 20, 2018, 4:03 p.m.: This story has been updated.