FBI says it has "grave concerns about material omissions of fact" from the GOP memo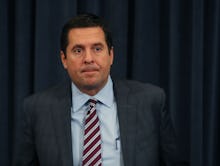 The FBI on Wednesday issued a rare public statement to express "grave concerns" about the classified memo on the FBI's Russia investigation that congressional Republicans voted to release and that President Donald Trump will allow to go public.
In the statement, the FBI said that the memo — written by Rep. Devin Nunes (R-Calif.) and his staff — has "material omissions of fact that fundamentally impact the memo's accuracy."
The memo reportedly calls into question Deputy Attorney General Rod Rosenstein's methods to obtain a Foreign Intelligence Surveillance Act warrant to surveil former Trump campaign aide Carter Page.
Republicans on the House Intelligence Committee voted to release the memo on Monday night. Trump has five days following the vote to decide whether to allow for its public release.
The White House initially said Trump had yet to make up his mind on whether to release the memo. But Trump was caught on a hot mic at Tuesday night's State of the Union telling Rep. Jeff Duncan (R-S.C.) that he "100%" planned to release the memo.
According to CNN, the FBI and Department of Justice went to the White House on Tuesday — before Trump's comment — to explain certain inaccuracies in the memo. And the intelligence community fears that the memo could give foreign adversaries information that could compromise how the U.S. operates.
Democrats, on the other hand, say the memo is part of a GOP effort to discredit the federal probe into the Trump campaign's Russia ties from the 2016 election.