This travel startup will now rebook your hotel — and get your money back — when the price drops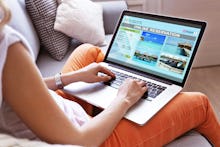 Hotel room prices fluctuate depending on demand, but tracking these changes to ensure you get an affordable room can be a real pain. Sure, you could spend days waiting for the lowest possible price — but wouldn't you rather spend your time dreaming about all the places you'll go to eat and brushing up on local intel?
There's good news for budget-conscious travelers who want to save as much as possible: On Thursday, travel startup Service released a new feature that will automatically rebook hotels for travelers if prices drop.
Service, which was founded in 2015, has made a name for itself helping customers get money back for flight delays. The hotel rebooking product is their second foray into technology geared toward travelers' rights.
How the hotel rebooking works
Once you've given it access, Service's proprietary technology combs your inbox and finds hotel reservation confirmation emails. The company then monitors your booking for price drops and automatically rebooks you for the lower price in the same room you originally selected. You'll put a credit card on file, and if Service gets you a refund on your room price, the company will charge your card a 30% commission.
Users can avoid paying commission with a yearly Service subscription for $49, which also includes the flight delay compensation feature.
Service's founder, Michael Schneider, has experienced this firsthand. He recently booked a New York City hotel room at $232 per night, he said in an email interview. The price dropped seven times and its lowest price ended up being $96 a night.
According to research conducted by Service, the average hotel room in the United States' top 25 cities costs $153 per night and drops after booking 36% of the time. The decrease in price is typically around 10%. Hotel room rates change due to supply and demand, so odds are good that during slow times of the year, hotels may slash prices to entice people to book up empty rooms.
Service isn't the first company to try to help consumers get cash back when hotel room prices change. Tingo, a product owned by TripAdvisor, has the same core concept: Customers book a hotel room for their desired dates; Tingo searches for the best price and automatically gives customers a refund on their credit card if the price goes down.
There are two important differences between Tingo and Service. For Tingo, customers need to book their hotels directly through Tingo's free site. And according to The Points Guy, not all hotels or rooms are eligible for automatic refunds, and some aren't fully refundable.
Paribus, a similar price comparison service, doesn't charge users but makes money by helping people rebook hotels at lower cost through Priceline. When asked how Service compares, Schneider said one problem with rebooking through Priceline is that, "If you are a Starwood Preferred Guest Platinum member and book via Priceline, you don't earn eligible nights or get a free upgrade as you would if you booked directly with Starwood.
"The consumer may be getting a lower price, but they're also getting lower benefits," he added. "We don't channel switch and therefore ensure you always get your frequent guest benefits."
Travelers can always call a hotel and request that it honors a lower public price, or simply cancel and rebook to avoid Service's commission. But if you think time is money, it might be worth your while to outsource.