2018 Winter Olympics: Erin Jackson is the first African-American woman to ever compete in long track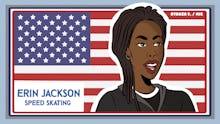 During the Winter Olympics, Mic is tracking a group of athletes who are smashing records and breaking boundaries. To follow the coverage, visit our Olympics hub.
Name: Erin Jackson
When U.S. Olympic speedskater Erin Jackson took the ice in Pyeongchang, South Korea, she was already making history as the first African-American woman to compete in her event of long track speedskating.
But there's also the matter of her lightning ascent to the pinnacle of her sport: Jackson qualified for the Olympic speedskating team after only four months of formal training, according to her Team USA profile. Originally an inline skater, Jackson made the switch with the hope of landing a team slot in 2022. She clinched her spot after shaving a full second off her best time at the qualifiers in Milwaukee, Wisconsin — and in speedskating, a second is a very long time.
While she's still relatively new to her current sport, Jackson has always been a fierce competitor. She's incredibly decorated as an inline skater, having won a host of medals at the world and Pan American Championships for roller sports. She also competes in roller derby and completed her engineering degree at the University of Florida in 2015. She told Rolling Stone in a recent interview that she hoped her presence made winter sports a more welcoming place for people of color.
"Something that you might notice if you're someone who watches the Winter Olympic Games is that there are not a lot of people of color participating," she told Rolling Stone. "But I'm looking forward just to being someone that children and people of color can look to, and maybe make them say, 'Maybe this is a sport that I can get into.'"
Jackson finished her event in 39.20 seconds. It wasn't fast enough to qualify her for a medal, but it was enough to put her among the 24 fastest skaters in her event worldwide.
Feb. 20, 2018, 4:10 p.m. Eastern: This story has been updated.