Larry Nassar's sentencing hearings showed just how widespread his crimes were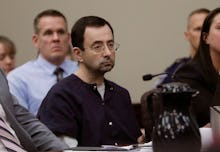 Larry Nassar's sentencing is over, and the disgraced former USA Gymnastics doctor now faces up to 360 years behind bars.
On Monday, Nassar was subjected to his third and final round of sentencing in Eaton County, Michigan, where Judge Janice Cunningham handed down a sentence of 40 to 125 years in prison after Nassar pleaded guilty to three counts of criminal sexual conduct in the county in November. Overall, he is accused of molesting an estimated 265 young women and girls during his two-decade career.
"I'm not convinced that you truly understand that what you did was wrong and the devastating impact you have had on the victims, their families and friends," Cunningham told Nassar as she delivered the sentence. "You are in denial. You don't get it."
The sentencing comes after a total of 65 women confronted Nassar during the Eaton County sentencing, just as judges from his first two sentencing hearings had allotted time in the proceedings for victims to address the defendant personally.
"The words expressed by everyone ... have impacted me to my innermost core," Nassar told the court on Monday. "The visions of your testimonies will forever be present in my thoughts."
Many of the women who spoke were former athletes; others were not, and had experienced Nassar's abuse during doctor's visits for ailments like back pain.
"You are the most vile, disgusting creature I have ever met. Scum of the earth is too high a title for you," one woman, Katherine Ebert, said on Wednesday, according to Buzzfeed's Mary Ann Georgantopoulos. "Standing in this courtroom today is a huge step in my personal healing process."
The sentencing comes roughly two weeks after Nassar received a separate sentence of 40 to 175 years in nearby Ingham County, where three-time Olympic gold medalist Aly Raisman was one of the dozens of victims to personally address Nassar in court.
"The tables have turned, Larry," Raisman said. "We are here. We have our voices and we are not going anywhere."
The controversy surrounding Nassar — who also pleaded guilty to federal child pornography charges in July and was eventually sentenced to 60 years in prison — has prompted many of the institutions that failed to keep his young victims safe to examine where the safeguards failed.
In late January, the House of Representatives passed a bill aimed to "prevent the sexual abuse of minors and amateur athletes" after Sen. Dianne Feinstein (D-Calif.) called a meeting she'd held with some of Nassar's victims the "most disturbing, emotional" one she'd had in her 25 years in the Senate. Soon afterward, the entire board of directors of USA Gymnastics resigned in response to the scandal. On Wednesday, a police department near Michigan State University, where Nassar was employed as a sports medicine doctor, publicly apologized for doubting the story of an accuser who came forward in 2004.
"It's Penn State all over again," Brian McKeen, a Detroit attorney representing one of the victims, told Michigan Live, referencing the infamous Jerry Sandusky scandal of 2011. "You have the same kind of institutional failures, involving multiple victims violated by a trusted staffer."
In response to Nassar's second sentencing, USA Gymnastics released a statement on Wednesday confirming that the organization is committed to creating "a culture that empowers and supports our athletes."
"We are very sorry that any athlete has been hurt by the despicable crimes Larry Nassar committed," the statement reads in part. "USA Gymnastics will keep their words and experiences at the core of everything we do as we remain focused on our highest priority — the safety, health and well-being of our athletes."
Meanwhile, the inevitability that Nassar will live out the rest of his life behind bars is, according to some of his victims, a step short of true justice.
During a Wednesday appearance on Today, decorated gymnast Simone Biles, herself one of Nassar's victims, said that she wished the judge sentencing him "would've just given him a crazy number, like 3,000 years or something."
Rachael Denhollander — a former gymnast who, in 2016, became the first woman to publicly accuse Nassar of assaulting her, when she was 15 — said that she had once held onto faith that the institutions put in place to protect her would work.
"But I was wrong in my firm belief," she said in court on Jan. 25. "I was wrong that surely if someone had been aware of what Larry was doing, they would report it."
Raisman, in her powerful address of Nassar, flatly said that USA Gymnastics is an institution that is "rotting from the inside."
"Now is the time to acknowledge that the very person who sits here before us now — who perpetrated the worst epidemic of sexual abuse in the history of sports, who is going to be locked up for a long, long time — this monster was also the architect of policies and procedures that are supposed to protect athletes from sexual abuse for both USA Gymnastics and the USOC," she said, referring to the United States Olympic Committee.
She added: "Now is not the time for false reassurances. We need an independent investigation of exactly what happened, what went wrong and how it can be avoided for the future."
During the final round of sentencing, former gymnast Annie Labrie summed up the reality of the Nassar situation bluntly.
"A pedophile cannot flourish in the way Larry did and in an environment that is not conducive to his behavior," she said. "It is imperative we as a society do not view this as an isolated incident."