Black Monuments Project: Here's how to use Colin Kaepernick, Michelle Obama statues on Snapchat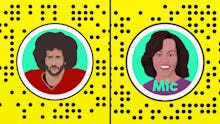 For Black History Month and beyond, Mic presents the Black Monuments Project, where we honor 54 black heroes who deserve monuments for their extraordinary contributions.
In 2017, the national conversation often centered on America's Confederate history and the statues and memorials that still stand to it today. Many Americans cheered as statues came down in New Orleans, Baltimore and Durham, North Carolina. Mic decided that it isn't enough to pull these monuments down, and took it a step further by imagining a country where black Americans are immortalized as bronze figures.
To bring that dream to reality, is using Snapchat's Lens Studio to visualize these monuments in any space near you. Mic partnered with Mixer, a startup specializing in mixed and augmented reality, to create 3-D models that come to life in front of you. Our readers can erect statues to former NFL quarterback and activist Colin Kaepernick, to Anita Hill, a defiant voice against sexual harassment and misogyny, to Michelle Obama, our nation's first black first lady, and to Madam CJ Walker, the first self-made woman millionaire in the United States.
How to unlock the Black Monuments Snapchat lens
If you're on your phone:
1. Want to see a monument to Colin Kaepernick? Open this link on your phone, which will take you to Snapchat. Want to show your support for #TimesUp and erect a statue of Anita Hill? Go to this link on your phone.
2. Once you're there, a dialog box will let you "unlock for 24 hours." Click that and you'll see this:
3. Snapchat icons are also available on the biographies of Kap, Obama, Walker and Hill on the Black Monuments Project page.
If you're on desktop:
1. If you're browsing the Black Monuments Project on desktop, simply open Snapchat on your phone and point the camera at the Snapcode here:
2. Tap and hold over the Snapcode, and you'll see the same 24-hour unlock option before the monument pops up.
Make sure the lens is always at your fingertips
Bookmark the honorees' profile pages on your phone or desktop, or add the page to your phone's home screen for easy access.
Get creative with where you place each monument
Would you place a monument of Anita Hill in front of the Supreme Court? Or perhaps you're in Oklahoma, where Hill was born, and want to erect her statue in a local park. Maybe you want to #TakeAKnee with Kaepernick in Wisconsin, where he was born, or outside any football stadium across the country. Michelle Obama would look great in Chicago's Millennium Park, and Madam CJ Walker could go up right where New Orleans officials took down the statue of Confederate general Robert E. Lee.
Ultimately, the decision is yours, and we can't wait to see how everyone poses with our monuments.
Share your snaps with friends
Save your black monuments snaps to your camera roll like this:
If you send them to friends or share them on your story, your friends will be able to use the lenses by swiping up on your snap.
Share your snaps with us
Be sure to tweet a selfie @Mic on Twitter with the hashtag #BlackMonuments. You can also email us at blackmonumentsproject@mic.com. We'll share the best images on Mic's social media.