The rise of truly good plus-size activewear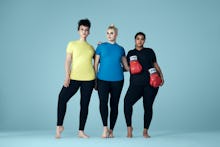 We've covered this before: Plus-size people, or people who are a size 12 or larger, work out, and as a result need activewear. Model Ashley Graham reminded us of this in 2016, telling Mic: "Maybe the assumption was that we don't work out but, honey, I work out. I wouldn't be this cute if I didn't work out." 
There have been brands that have understood this for a while. In 2016, Graham was named the face of Nola by Addition Elle, a plus-size sportswear line that goes up to a 4XL. But at the same time, many of the biggest activewear brands like Lululemon — a leader in the activewear space — still only stock leggings up to a size 14.
But as more and more brands and even plus-size models themselves are getting into the activewear industry, that's beginning to change. Given that the global market for sports and fitness clothing is projected to hit $231.7 billion by 2024, and that most American women are now plus sized then, it's a wise move.
Take Universal Standard, which has found its niche within the plus-size clothing industry with high-quality, modern pieces. After providing customers with easy dresses and celebrity collaborations, it launched its own activewear collection with sizes up to a 28 in January. According to Universal Standard co-founder Alexandra Waldman, the collection came from seeing the options people who wear a double-digit size had in this space.
"We have these girls who are in double-digit sizing, and work out really, really seriously," Waldman said in an interview with Mic. "They had gotten used to wearing cotton stretchy pants and an old T-shirt to the gym. You go into a store and buy something that looks like an afterthought, which is an epidemic to this consumer. You buy these black tights that are just stretchy and maybe with some neon splatters on them, or whatever. Very few people go the whole way in considering this woman as an athlete. So we thought, why does everyone else deserve this except her?"
Waldman and her team got to work, addressing the top concerns her customers had, which seemed to stem from the industry's reluctance to see this customer as a person who does seriously works out.
"There were a lot of complaints on seam integrity and seams lasting through what would be a real workout," Waldman said. "There were complaints about moisture-wicking, which is such a standard with any activewear, and it was like nobody believed that this woman would need that or take her workout seriously. We focused on the longevity of these pieces, and also the way they looked."
In other words, a lot of thought and investment goes into creating plus-size activewear. Although obviously a profitable move for many companies, the act of extending sizes for many athleisure and activewear brands has proven to be difficult.
Denise Lee, the founder of Alala, an activewear brand that goes up to a size XL, knows this well. In 2014, the brand launched with larges, and was then able to extend up to extra larges, but continues to face multiple roadblocks on its way to extending further.
"What we've found is that when we started exploring sizes above an XL, women's bodies change more dramatically in different ways," Lee said in an interview. "In the research we've done, certain women get bottom-heavy, or the torso gets bigger or maybe around your chest things expand. So there's a ton of research and fit studies you have to do to make sure your product is actually quality and works for this woman."
Considering and researching all those things take money. So it's an investment in both time and money, which Waldman knows all too well.
"You have to consider shapes and the functionality of the shapes," Waldman said. "The arm holes even. It should fit to your knee and to your ankle without being too tight. You should be able to bend over and not show your underwear. There should be a quality that's built into this product that's relevant specifically to a bigger body."
Danielle Williams, the senior designer of activewear at Torrid, which sells leggings up to a size 30, also attested to the many things that are absolutely necessary when even just designing activewear for a person who's a size 12, 14 or larger.
"Most retailers simply take that size small legging and just grade it up to make it bigger," Williams said in an email. "They don't take into account the shape of a plus-size woman. We do. We fit on real girls. We wear test on real girls. We swear by the fit and that is evident in the way our active leggings fit on a variety of body types."
But is designing activewear for a person who is a size 14 or 16 or 20 all that essentially different from designing for a size two or four?
"Is it a world of difference?" Waldman wondered. "No. The world of difference doesn't exist in design, but in the willingness to create it."
"The world of difference doesn't exist in design, but in the willingness to create it."
Because truly, there are even more roadblocks when a brand tries to manufacture this plus-size activewear.
"We do a seamless collection which is basically like tights and bras knitted on a circular machine," Lee said. "They're knitted as a tube, and at our factories, the tubes have sizes. They have a machine that only knits small tubes and a machine that only knits medium and large. Even if we're asking for sizes bigger than a large, the factories don't have a machine there that knits an extra-large tube. The machines are like $40,000 to $50,000 a piece. So even if we're asking a factory, 'Oh can you make an XL?' they're saying, 'No, we don't because it's going to cost too much money.'"
The infrastructure needed to create this kind of clothing for this kind of person isn't completely widespread yet, and really quite expensive for everyone involved, so a designer or brand really has to — again — fully commit themselves to this customer.
"You're swimming in unchartered waters," Waldman said. "You're like what? That costs how much? If you want to step into a place that's not occupied yet, then you have to be prepared to get those sized models, to get those fabrics, to get those machines and factories."
Luckily, there are brands that are investing. There's Universal Standard, Torrid, Zella, which is sold at Nordstrom and goes up to a size 24, Lucy, which goes up to a 3XL and model Candice Huffine's Day/Won, which has tops up to a 5XL and leggings up to a size 32, to name a few.
"I want to continue spreading the message that women above a size 12 or size L deserve the same things that are offered to single-digit counterparts," Huffine told Mic in 2017. "No separate collections with limited options necessary. Expand the line you make already."
What Waldman ultimately hopes for is that people who wear a double-digit size won't have to feel like they're being forgotten by this industry for much longer.
"There is this kind of presumption that this woman doesn't really work out in the way that makes amazing things necessary," Waldman said. "Obviously that's wrong. With everything else, the field has to be leveled and it has to be much more open, and much more diverse than what we currently have. We're constantly trying to cook a gourmet meal with three ingredients. It's time to end that."