Model Kate Upton calls out Guess creative director Paul Marciano with the hashtag #MeToo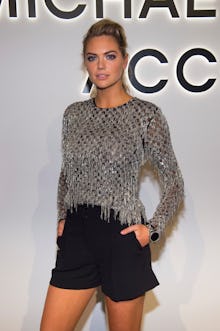 Fashion's #MeToo movement continued on Wednesday when model Kate Upton, who's graced multiple covers of Sports Illustrated as well as British Vogue, called out Guess creative director Paul Marciano for sexual harassment.
"It's disappointing that such an iconic women's brand Guess is still empowering Paul Marciano as their creative director," she wrote on Twitter, ending her tweet with the #MeToo hashtag.
Then on Instagram, she posted a picture of her tweet and wrote the caption: "He shouldn't be allowed to use his power in the industry to sexually and emotionally harass women."
Upton modeled for the brand starting in 2011, starred in several campaigns and became one of brand's own iconic Guess Girls. Marciano founded Guess Jeans in 1981, and in 2015 stepped down as CEO but remained both the executive chairman and the chief creative officer.
Almost immediately, people were trying to discredit Upton's claims of harassment, but more women have already come forward to support Upton.
"I worked with him for a few years and was too afraid to say anything, but this is true," Sade Sellers, a filmmaker, wrote on Twitter.
"Everyone has their day and today is yours Paul Marciano," Sellers continued on her own account. "I stopped supporting Guess years ago when I worked with him in Beverly Hills. Disgusting pig. Good for you, Kate."
"The way not only him, but his brother treats women is appalling," Sellers wrote. "I've got stories and tears for days."
On Thursday, TMZ published a video of Upton walking out of LAX after she tweeted about Marciano. "I can't wait to tell my whole story, but a walk to the car is not gonna cover it," she told them.
Asked about what can be done to keep people from abusing their power, Upton responded: "I think a lot of people around them know about it and need to speak out." Then asked if there's more cases of this kind of behavior on the industry, Upton said: "Way more."
These allegations against Marciano come after photographers Mario Testino and Bruce Weber were accused by many models and assistants of sexual exploitation in a story from the New York Times.
On Feb. 20, the Associated Press reported that Marciano is stepping down from his day-to-day responsibilities at Guess Inc.
Feb. 20, 2018, 11:02 a.m.: This post has been updated.